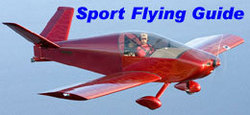 ...a free website that includes information and resources on sport flying and light-sport aircraft.
Willits, CA (PRWEB) December 30, 2009
Learning to fly small, safe aircraft recently became easier and cheaper. The Federal Aviation Administration (FAA) passed new rules for recreational flyers called sport pilots. At the same time, they simplified planes to allow two-seat aircraft that can fly at up to 138 mph. Best of all, training became simpler. Sport pilots only need 20 hours of instruction plus a driver's license to go flying. Typical training cost is less than $3,500.
What's the downside? Sport aircraft can't fly with the 777 pilots at high-traffic airports. But most sport pilots don't want to, anyway. They prefer flying into the 90% of U.S. airports that are open to them. They can fly any aircraft that meets the size and weight requirements of the light-sport aircraft (LSA) rules, from classic Piper Cubs to one of the 50+ new aircraft designed specifically for sport pilots. Pilots can own, rent, partner, or build their own aircraft.
What about security issues with these small aircraft? Because they cannot fly into large airports and because they weigh less than half of a Prius, they pose no significant danger. In fact, as commercial aircraft passengers become frustrated with airport security and flight delays, many are deciding to fly their own plane into smaller airports that are actually closer to their destinations. Of course, they only can do so under visual-flight rules (VFR). If they can't see, they don't fly. Others are building experience in LSAs toward someday earning a private or even commercial pilot license.
There's much more to sport flying. Dan Ramsey, author of The Complete Idiot's Guide to Sport Flying, recently built a free website that includes information and resources on sport flying and light-sport aircraft. SportFlyingGuide.com includes all the rules and benefits of SP/LSA regulations in easy-to-understand language for non-pilots. It also suggests how and where to acquire training. The comprehensive website is increasingly popular as consumers look for lower cost – and more fun – ways of getting from here to there. Sport flying is the answer.
###