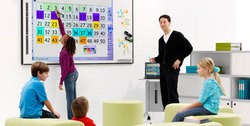 Brentwood, CA (Vocus) December 31, 2009
Solutionz Conferencing, Inc., a leading total conferencing provider of video conferencing, audio visual integrations, managed services, and grant services, and PolyVision, a leading provider of integrated solutions for learning and collaborating in today's connected world, announced a new partnership designed to provide people with eco-friendly writing surfaces and whiteboards in the workplace and the classroom.
Under this new partnership, the companies will combine Solutionz' expertise in video communications, telepresence solutions, and custom room integrations with PolyVision's renowned experience in connecting people with tools for learning, working, and collaborating for sustainable solutions for 21st century learning environments. Together the two companies will work together to integrate video conferencing solutions with whiteboards for a total conferencing solution.
PolyVision product solutions give students, teachers, and workers a solid platform for learning. What's more, their environmentally-certified whiteboard surfaces offer the smoothest writing, easiest erasing, and best visibility (not to mention longest durability), you'll find anywhere. Educators, business leaders, facility managers, architects, contractors, and more have chosen PolyVision solutions for innovative applications in millions of classrooms, workplaces, and public spaces worldwide.
For more information on PolyVision products contact solutions at http://www.solutionzinc.com.
About Solutionz
Solutionz Conferencing, Inc. is a total conferencing provider specializing in end-to-end video and voice communications, audio visual integration, managed services, and grant services, delivering the promise of face-to-face meetings regardless of distance.
About PolyVision
PolyVision integrates time-tested tools with innovative technologies to bring learning to life. From environmentally-certified writing surfaces to industry-leading interactive whiteboards, PolyVision solutions help people learn and collaborate in a connected world. Since 1954, PolyVision has inspired educators, students and workers to be more productive and creative by providing the most effective tools we can imagine and create.
Contact:
Kristin McClune, Director of Marketing
(888) 815-6128
kmcclune(at)solutionzinc(dot)com
###