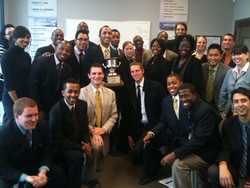 "I couldn't have achieved this goal without the one hundred percent given by each and every one of the sales representatives on my team"
Atlanta, GA (PRWEB) December 30, 2009
Fire, Inc., a privately-owned marketing company, announced that President Malcolm Elavia has received an MVP award from one of the company's major clients – a large telecommunications company - for outstanding performance in several categories including customer satisfaction, customer feedback, quality, and sales volume.
The MVP award demonstrates Elavia's commitment to his business and dedication to obtaining strong sales results. As the strongest company in his region for the telecommunications company's business, Elavia has soared above the rest with outstanding results, top-notch sales tactics, and real-life solutions that meet every customer's individual need.
The MVP award – a "roving" trophy - and a plaque were presented to Elavia and his team by a local general manager from the telecommunications company. Elavia was honored as the top performer in the Atlanta market.
"I couldn't have achieved this goal without the one hundred percent given by each and every one of the sales representatives on my team," said Elavia. "All of them did a phenomenal job and worked smoothly together. They're what make my business the success that it is."
About Fire, Inc.
Fire, Inc. is a marketing firm that specializes in outsourced sales and client acquisition for service-based, Fortune 500 companies. Fire's overall marketing approach enhances client-brand loyalty, which translates into increased revenues and long-term success - creating a positive and long-lasting impression. For more information, call Malcolm Elavia at (404) 879-0376 or log onto http://www.atlantaonfire.org.
###