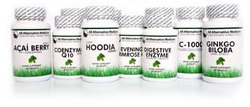 You Natural Herbal Choice
Staten Island, NY (PRWEB) December 30, 2009
All Alternative Medicine products LLC. has announced that they have added a new line of Natural Nutritional Supplements and Vitamins on their web store. All Supplements and Vitamins are produced on FDA registered and inspected facility operating since 1977. All natural herbal ingredients used in production of All Alternative Medicine's Nutritional vitamins and supplements make them safe, top quality products. All Vitamins and Supplements on All Alternative Medicine web store contain no yeast, no sugar, no starch, no artificial colors, flavors or preservatives.
The list of Natural Nutritional Supplements and Vitamins include: Acai Berry 4:1 Concentrate, Super Hoodia 1000 Mg, Vitamin B-100 Complex, Vitamin C-1000 with Rose Hips, Omega -3 EPA/DHA, Evening Primrose Oil, Prostate Support, Gingko Biloba 60Mg, Digestive Enzyme, Coenzyme Q10 30Mg, and Thyroid Support.
Acai Berry 4:1 Concentrate is a strong antioxidant. It gives strength and energy, controls the degradation of body cells, improves stamina, improves skin conditions (such as acne), helps to lose weight, helps to fight heart diseases, has many vitamins and minerals that help promote good health and allow the body to function better, cleanses the body of toxins, and allows the body to regenerate faster and more efficiently.
Super Hoodia 1000 Mg may suppress the appetite and produce spectacular weight loss in some individuals in short period of time.
Vitamin B-100 Complex may improve Energy Production; Healthy Skin, Hair and Nails; Synergy; maintain Healthy Nervous system; and provide Good Digestion.
Vitamin C-1000 with Rose Hips. Rose Hips help to prevent and treat colds and flu, as well as various infections, speed up the healing process for bruises and skin irritations, relieve inflammation and ease sore throat. Vitamin C benefits may include protection against cardiovascular disease, immune system deficiencies, eye disease, prenatal health problems, and even skin wrinkling.
Omega -3 EPA/DHA with vitamin E and EPA and DHA Fatty Acids . This Nutritional Supplement may be effective for heart support, reduction of inflammation of rheumatism and arthritis, and support of healthy blood pressure levels, can significantly reduce cholesterol, has ability to reduce inflammation, and beneficial to rheumatism and arthritis sufferers.
Evening Primrose Oil contains substantial amounts of polysaturated omega-6 fatty acids, essential fatty acids (EFAs), which are needed to regulate a heart function, insulin utilization, and mood. Also it contains linoleic acid and gamma-linolenic acid (GLA). GLA may help to inhibit the body's production of chemicals causing inflammation. Evening primrose oil has been used in treatment of inflammatory conditions including asthma and rheumatoid arthritis; and may be useful in helping chronic fatigue syndrome.
Prostate Support Nutritional Supplement contains unique combination of essential nutritional ingredients that provide exceptional support for men's health. If you have prostate or potency problems or you are older than 50, you might consider Prostate Support Nutritional Supplement.
Gingko Biloba Nutritional Supplement is based on herb which contains more than 40 active substances and may help in memory improvement, preventing the appearance of blood clots in the vessels, controlling the conversion of cholesterol to plaque, and improving of the ear and eye conditions.
Digestive Enzyme Quadruple Strength Natural Nutritional Supplement has been proven to be helpful for the digestion of food, cell and organ regenerating and repairing cellular energy, and brain stimulation.
Coenzyme Q10 is a Nutritional Supplement that may help with cardiovascular disease, weight Loss, mitochondrial disorders, migraine and headaches, cancer, male fertility, healthy gums, blood pressure, angina, and straighten the immune system.
Thyroid Support Natural Nutritional Supplement is a Nutritional Supplement that may help to maintain healthy thyroid. 59 million Americans have a thyroid problem. But the greater parts of them don't even know it yet. If you have the following symptoms, such as Muscle and Joint Pains, Neck Discomfort/Enlargement, Hair/Skin Changes, Bowel Problems, Fertility Problems and Menstrual Irregularities, Cholesterol Issues, Depression and/or Anxiety, Weight Changes, Fatigue, you might suffer from thyroid disease and need Thyroid Support Nutritional Supplement.
AllAlternativeMedicine.com is also presenting a variety of 100% Natural Healing Products for general well being, beauty, hair, weight loss, body cleansing and detoxification; serious such as diabetes, heart diseases, high blood pressure, anorexia, insomnia, seborrhea, constipation, sore throat, flu, viruses, infections, spasms, impotency, arthritis, acne, allergies, rheumatism, upset stomach, bronchitis, pain, and much more.
###