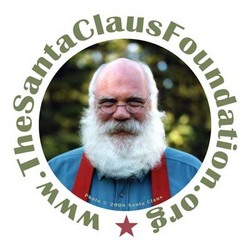 I believe that international peace begins within the heart of every child. Unconditional love is the greatest gift one can give.
Incline Village, Nev, USA (PRWEB) December 30, 2009
Santa Claus, a full-time volunteer child advocate and Christian Monk in the United States, has won the 2009 Peace Prize presented by the Santa Claus Peace Council in Antalya, Turkey.
Santa Claus is founder of The Santa Claus Foundation that has been advocating for years throughout the United States for millions of children who are abused, neglected, exploited, abandoned, homeless, and institutionalized through no fault of their own.
Santa Claus, which is his legal name, is a Christian Monk in The Order of The Anam Cara and an ordained Priest in the Apostles' Anglican Church. His successful national tour to every Governor's office, and his subsequent run in 16 states as an independent write-in candidate for President of the United States, raised public awareness of the plight of millions of children in dire straits.
Since 1993, STCPC has promoted international peace, utilizing the well-known image of Santa Claus, and recognized the Dalai Lama's peace efforts with its Peace Prize in 1995. Emphasizing Santa's loving, giving, and peaceful nature, STCPC already has established a growing network of representatives in 78 countries.
STCPC, founded in Turkey by Muammer Karabulut, presents a new example of citizen diplomacy that occurs when an individual citizen, or non-governmental organization, in one country develops a strong relationship with the same in another country. In this circumstance, a clear East-West bond has formed.
Santa Claus and St. Nicholas of Myra share the belief that the greatest gift one can give is love. Accepting the Peace Prize, Santa Claus emphasizes that everyone should strive for peace – beginning within each child's heart, then in every family, every community, every country, and throughout the world. Every child deserves the gifts of unconditional love and peace, no matter where they are born or live.
###