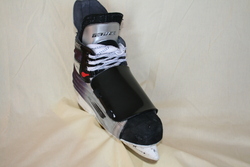 "For me two things were critical for the success of Spats...easy to use...affordable"
(PRWEB) December 31, 2009
Webster's defines spats as short gaiters that cover the ankle. Owner of Parrott Ventures, Lawrence Parrott, defines spats as a revolutionary piece of hockey equipment that should be on every pair of hockey skates.
On a cold night in his local hockey arena in the winter of 1997, Parrott stepped in front of a shot during his regular Monday Night Hockey League game. The shot, although deemed harmless at the time, ended up breaking his foot. A crack in the big bone on the inside of his foot kept him on crutches for three weeks. This gave him time to think about his injury and how vulnerable this area is on all hockey players. He fashioned a simple looking guard out of plexi-glass and felt he was probably on to something. Although he even came up with a name, Spats, the plexi-glass guard and the idea were shelved for ten years.
Parrott's idea was always on his mind. "I started seeing players in the NHL with all kinds of different contraptions on their skates trying to cover the same area of the skate I had designed my Spats to cover," states Parrott. "I knew it was time to blow the dust off my idea before someone else came up with it".
He set to work on the perfect pattern and shape for a one size fits all design settling on a feather light, high-density polyethylene for the body of the guard which acts like a shield over the skate. A unique clip system which gives the guard three points of attachment on the skate boot was the basis for a patent which was applied for in early 2008. After two years of testing and reshaping, Parrott was convinced his product was ready for market.
"For me two things were critical for the success of Spats," says Parrott. "One, they had to be easy to use." Attaching Spats to your skate is as easy as lacing them up. Once attached, the guard can be secured in seconds and flipped to an open position just as quickly. "The second was to make them affordable so everyone who wanted them could get them." Parrott adds that a similar yet inferior product can be custom made by another company for $400-$500. "I wanted to see them sold for about the same price as a pair of shin pads, so they retail for around $50.00." Spats are slowly making their way on to sporting goods store shelves and are also available through a website, http://www.spats.ca.
The main idea behind wearing Spats is simple, injury prevention! "You wouldn't go on the ice without protecting your shin bone, so why do we go out with the bones in our feet exposed?" quips Parrott. Shot blocking techniques that are taught today have hockey players sliding towards the shooter shin pads first, which in turn exposes an unprotected tender spot, the feet. Hockey players of all ages and skill levels can now have the confidence to make that game saving block.
Interesting fact: In the 2008-09 NHL season, the Vancouver Canucks alone lost 36 man games to foot injuries which cost them $703 000.00.
# # #