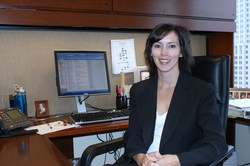 They also have to be self-motivated and entrepreneurial
Chicago, IL (PRWEB) December 31, 2009
For many college students the prospect of finding a job during the economic downturn is quite an uneasy thought. An internship can help pave the way. While many other companies reduce or eliminate their recruiting efforts at colleges and universities, Northwestern Mutual still remains committed to maintaining its presence on campus. In Chicago, The McTigue Financial Group has created a new position on its management team to expand its recruiting efforts on campuses throughout the Chicagoland area for the Northwestern Mutual's Internship Program.
As Director of Internship Development, Theresa Taylor, will be responsible for growing the number of college representatives within The McTigue Financial Group who participate in the internship opportunity year round. Each year, The McTigue Financial Group seeks at least 40 students to participate in Northwestern Mutual's Internship Program, which has been named by Vault as a Top 10 internship program for 13 consecutive years. She will work with the Director of Campus Recruitment, Erika Milonas, and College Unit Directors Mike Lindberg and Jim Stinson to expand The McTigue Financial Group's presence on college campuses including: DePaul University, Loyola University, Northwestern University, University of Illinois-Chicago, Elmhurst College, and Wheaton College.
Taylor joined The McTigue Financial Group in 1995 and has served as a College Recruiter and Director of Recruiting. In 1998 she was named Director of Training and has been responsible for the training and development of more than 300 full time and college financial representatives. She received a bachelor's degree in sociology from Duquesne University. She is also a Certified Trainer and Certified Coach. She resides in Homewood with her husband Mike, and three children.
"The internship has been a stepping stone into professional financial sales and services careers for hundred of college students," notes Taylor. In fact, many of Northwestern Mutual's top financial representatives and field management started out as interns. An even greater number of former college representatives have gone on to successful careers in other fields, providing invaluable business and financial service experience, teaching them a great deal about working with people, while helping them defray college expenses. "I am looking forward to working with our internship team to make students, their professors, coaches, and parents aware of this opportunity to grow professionally and personally."
In announcing the creation of the new position, Managing Partner John W. McTigue noted that the internship program has proven to be a great way for the firm to recruit full time representatives. At The McTigue Financial Group, about 1 in 4 college reps become a full-time financial representative after graduation. "The ratios are high because we seek out motivated candidates and then invest in their success through training, development and mentoring," adds McTigue.
The McTigue Financial Group looks for candidates who have demonstrated their drive, integrity and personal relationship skills through experiences such as volunteering, athletics or prior jobs. "They also have to be self-motivated and entrepreneurial" he adds. To learn more about The McTigue Financial Group and the Northwestern Mutual's Internship Program, call Theresa Taylor at 312- 641-8924.
About The McTigue Financial Group
The Network Office currently headed by John McTigue opened for business in 1872. The McTigue Financial Group is a network office of the Northwestern Mutual Financial Network, providing expert guidance in life insurance, investment products and services, retirement and estate planning, education funding and employee benefits. The offices are located at One North Wacker Drive in Chicago, 2015 Spring Road in Oak Brook, 3400 Dundee in Northbrook, and 8600 W. Bryn Mawr in Chicago.
About Northwestern Mutual
The Northwestern Mutual Life Insurance Company – Milwaukee, WI (Northwestern Mutual) has helped clients achieve financial security for more than 150 years. As a mutual company with over $1 trillion of life insurance protection in force, Northwestern Mutual seeks to share its gains with policy owners and deliver consistent and dependable value to clients over time.
Northwestern Mutual is an industry leader in total individual life insurance and disability insurance dividends paid to participating policy owners. Though dividends are not guaranteed, are reviewed annually and are subject to change, the company has paid life insurance dividends every year since 1872.
Northwestern Mutual and its subsidiaries offer a holistic approach to financial security solutions including: life insurance, long-term care insurance, disability insurance, annuities, investment products, and advisory products and services. Subsidiaries include Northwestern Mutual Investment Services, LLC, broker-dealer, registered investment adviser, member FINRA and SIPC; the Northwestern Mutual Wealth Management Company, limited purpose federal savings bank; and Northwestern Long Term Care Insurance Company; and Russell Investment Group. Further information can be found at http://www.northwesternmutual.com.
###