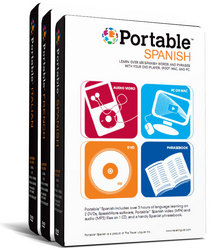 Portable Spanish is a great tool for beginning foreign language learners.
Brooklyn, NY (PRWEB) December 31, 2009
Now beginning language learners can learn a new language anywhere and anytime with the brand-new Portable Language series from The Travel Linguist Inc (http://www.travellinguist.com).
Most language learning products are limited to one method of learning. Audio courses teach hearing. Books teach reading. Software is useless without a computer. The Portable Language Series from The Travel Linguist offers a multi-modal way to read, see, hear, and speak a foreign language.
The Portable Language series is available now in Spanish, French, Italian, and Portuguese. German, Japanese, Russian, and Chinese will be available in early 2010.
A Portable Language product includes two DVDs, SpeakMore Software for Mac and PC, one CD for iPod, Zune, or other player, and a Portable Language phrasebook. All just $29.95.
Used correctly, a Portable Language product is one of the best ways to quickly learn to read, understand, and speak a new language.
###