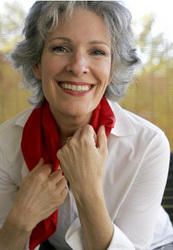 The Santa Story Revisited: How to Give Your Children a Santa They Will Never Outgrow
Los Angeles, CA (PRWEB) December 30, 2009
While most parents would deny it, self-proclaimed Santa expert Arita Trahan suggests many of them are addicted to playing Santa.
Long after their children have given clear indications that the jolly old elf has been outted, many parents still insist on continuing the ruse. Arita Trahan says it's time to kick the addiction and gracefully segue from playing Santa for our children to playing Santa WITH our children.
Trahan suggests that the time for an intervention is now, fresh off the Santa high. She says, "There's no better time for parents to embrace new traditions and mark the end of the years of Santa as something children outgrow. If your children express their suspicion that Santa isn't real, honor that discovery and celebrate it as a rite of passage."
The self-proclaimed Santa expert gives this account of one Santa addict: "I was visiting with my neighbor a couple of months before Christmas when her son proudly boasted to both of us that he knew that Santa was not real and that the presents were really from parents. Then, a week before Christmas, this same neighbor told me that Junior had delivered a lengthy—and expensive—list for Santa. I was surprised when she rejoiced, 'He still believes! He is ten years old and he really still believes!' There it was—a hearty dose of denial, the drug of choice for Santa addicts."
Trahan explains the parents' desire to continue their role as Santa. She says, "What was initially innocent play on the part of the parent grows into defensiveness and need. They are afraid of disappointing, afraid of losing innocence, afraid of seeing their children as anything other than children whose trust has made them easily convinced, and afraid that they have outgrown their own infallibility in the eyes of their children. They need to be believed in the role they play, they need to be right in having played it, and they need to be in control of their children's experience of Santa. In their need lies the addiction."
The middle-aged grandmother believes that parents who are addicted to playing Santa are well intentioned. She says, "It started as a little game; a sneaky, generous, magical role that resulted in joyful expectation and delightful laughter. What could go wrong? But, year after year, as curious tots grow into inquiring youngsters, the need to lose ourselves in the fantasy became a little less innocent, a little more convoluted."
Trahan, author of "The Santa Story Revisited: How to Give Your Children a Santa They Will Never Outgrow," says her own time-tested expanded Santa tradition can be customized by the rest of us who might be dreading the time when the truth is outted and the holidays become less magical.
Trahan continued, "Now is the time for parents to 'out' themselves and, simultaneously, reinstate Santa to his original role as the hero of anonymous giving. Then, next Christmas, your children—no matter what their age—can play 'with' you. In fact, why wait? Play Santa all year long to teach giving as a source of joy, a way of being sneaky and selfless at the same time. It's a righteous game that benefits us all. The magic will surprise you when it arrives without your having to 'create' it. When Santas multiply, so does the joy. As with all addictions, those who have survived it, or dodged it, long to assure those within it that life on the other side is very good indeed."
Arita Trahan is the author of "The Santa Story Revisited: How to Give Your Children a Santa They Will Never Outgrow." More information is available at http://www.TheSantaStory.com and the book is also available on Amazon and through other book retailers. Arita also penned the lyrics for a song that promotes her message that it's more fun when kids join in and everyone PLAYS Santa. The song is "I'm Being Santa," with music by Mark Horwitz. A music video of the song, featuring the Agape International Children's Choir from Culver City, California can be seen on YouTube at http://www.youtube.com/watch?v=mbh45srDylc.
###