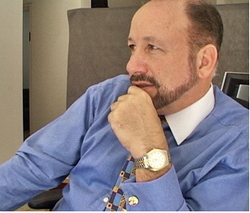 Adwords are not a substitute for getting out optimized news stories on Google News and PR news releases into the many corners of the Net. Adwords do not substitute for New Media - that is the creation of blogs, professional rooms and forums in Facebook, Google and Yahoo groups and the creation of videos on YouTube.
New York, NY (PRWEB) December 31, 2009
There used to be a time when professional public relations consisted of typing up a news release and placing it into a fax machine. One can remember taking dozens of news releases packed neatly into elegant, clean white envelopes addressed to AP, Reuters and UPI and dropping them off at their central post office in New York, London or Paris.
"If you were smart, you would follow up with a call to the editor or newsroom to confirm that they received the news release or as they are referred to today as the PR," says Joel Leyden, CEO of the Leyden Communications Group.
"Today, the fax is reserved only for legal documents or papers that you don't want exposed to the open Internet. We have moved to using email to get our messages out in real time.
But email has become so over used and abused that today many editors are afraid to even look at their inboxes. That a tidal wave of spam may just engulf them and swallow up their precious deadline minutes," said Leyden.
So how is the general and trade medias being reached today?
According to the Leyden Communications Group the new and relevant media news channels are Facebook, Twitter, YouTube and SEO optimized Web and news content.
The Leyden Communications Group, which was established in New York in 1982 and has become a pioneer in digital PR, SEO and New Media and own and operates the United States News Agency Agency and the Israel News Agency recently created a group on Facebook supporting Israel's right to defend herself against terror attacks. The room swelled to 100,000 members and TIME, CNN and FOX all took notice.
Did they email Leyden? Not exactly. Leyden's Google Gmail account never saw any editorial inquires. Rather they tracked Joel Leyden down through Facebook!
When classic PR, advertising, marketing and branding integrates with Web 2.0, New Media and social networking the results are nothing less than dazzling.
But let's begin with some definitions. What is PR?
"It is not the same as sales, branding or marketing," says Leyden.
"Public relations is the activity of working with the news media to gain and or control visibility for a B2B or B2C business, crisis communications management for governmental public affairs campaign or getting the message out for a non-profit organization."
Leyden says that public relations gains an organization or individual exposure to their markets using topics of public interest and news items that do not always demand direct payment. Common activities include event marketing, speaking at conferences and employee communication. It was something that was not tangible and thus set it apart from advertising.
But today, a news release or PR which is sent out over the Internet using one of several PR news release carriers, can be tracked. The demographics, impressions and read throughs can and our monitored. And the results can be provided to the client for fine tuning.
What is SEO or search engine optimization?
Leyden defines SEO as the means of optimizing or making Web content found by search engines such as Google, Yahoo, Microsoft Bing, AOL. It takes a thorough understanding of HTML code and how the algorhythms work on each of the search engines.
For those, and that is the majority of surfers on the Net, who do not know SEO and need to get their messages out there, they usually resort to a Google Adwords campaign.
Illustrating the public's lack of knowledge of SEO is Google's total advertising revenues. They were 21 billion USD in 2008 . Google AdWords offers pay-per-click (PPC) advertising, and site-targeted advertising for both text and banner ads. The Google AdWords program includes local, national, and international distribution.
All of these elements can and are addressed by a PR SEO professional.
But how does PR integrate with Web 2.0, New Media and SEO?
"It doesn't", says Leyden. " Well at least it has not fully matured as of yet. The reason is simple.
The PR professional is one who has a rich background in journalism, marketing and or sales. Journalists who earn their degrees in creative writing, understanding how to create an effective headline and how to put together sentences and facts in the most interesting manner. They are not computer programmers."
Leyden says that that the SEO professional is usually a computer programmer who has studied computer engineering and also knows how to write. But these programmers are writing computer codes such as JAVA, HTML and FLASH. They are creating computer software applications. They are not PR professionals.
"These are two completely different disciplines," says Leyden.
As the Internet moved into Web 2.0 becoming far more interactive with applications such as Facebook, Twitter and LinkedIn sending and receiving information in real time, many PR professionals were forced to discover the practical use of New Media, social networking and SEO.
But how many PR professionals have actually taken the time to learn SEO, HTML code and integrate their creative nouns and adjectives with META tags and dozens of other computer programming parameters? How many PR and SEO professionals know and understand the new Google Caffeine search engine to be launched in 2010?
Very few. But yet, many claim that they offer SEO services.
So what is honest and what is not?
Where can you truly find an experienced PR professional who has a solid background in classic PR, branding, advertising and marketing with SEO and New Media skills?
"You must ask several questions," says Leyden. " Problem is, most companies seeking international SEO Internet marketing and PR support do not know the questions to ask."
The Leyden Communications Group and Leyden Communications Israel provides below a list of questions for every company from New York, Tel Aviv, London, Washington and Los Angeles to Paris, Japan, India, Russia and China to ask the SEO or international Internet marketing and PR company before they sign a contract.
"First, if your target audience is in New York, London, Manchester or Los Angeles, or any native English speaking market, be certain to hire a native from that country. One whose English is at mother tongue level and understands the marketing culture of your target market. If you do hire a native speaking PR SEO professional, make certain that they have lived and worked in your target market locale for at least ten years.
Second, you want to know what experience and for how many years they have worked in PR, SEO, New Media, international marketing, conventional distribution channels, social networking, sales, marcom, viral marketing, production of brochures, advertising and public relations?
Third, what professional experience do they have in copy writing, journalism and research?
Fourth, what practical experience do they have in SEO programming?
And last but not least, how long have they been working on the Internet?
How many friends do they have on Facebook or followers on Twitter? Are they really into social networking?
An international PR and Internet marketing professional must wear many hats to succeed.
The Internet SEO professional must be an experienced international marketing or PR person - one who understands how to penetrate and motivate a market outside of their own locale without the Internet.
They need to understand the basics of international marketing, branding, distribution and sales channels in order for them to integrate the digital world with the classic print, broadcast media and sales markets.
The PR SEO professional must be an accomplished, creative and professional writer who can write for both the reader and the search engine."
Leyden says that this news article is an example of how one can write for both the reader and the Google and Yahoo search engines. The English may suffer a bit as the writer finds a creative balance between getting your attention and the eyes of the search engines. But what is more important?
"The search engine!," says Leyden.
"For if your customers in the UK, France, Jordan, Spain, Turkey, Germany, Brazil, Japan and South Korea do not find your Website, then having a Website with the best of conventional copy writing and FLASH will find itself lost in cyberspace."
Can you find a Webmaster, Internet graphic design, Internet programmer, professional Internet marketing, international PR guru and professional journalist and or copywriter all in one person?
"Many will say yes just to take your money," says Leyden.
"You will be lucky to find a team with each one of these professionals in no more than perhaps a dozen international Internet PR SEO marketing companies - most of them based in the US. And being limited by knowing only the US market."
What then would be the real acid test for securing a professional PR SEO - search engine optimization Web promotion marketing company?
Leyden suggests to simply perform a search on Google for "New York SEO PR", "London SEO PR" or "Israel SEO PR".
"Perform a search for the market you are seeking to penetrate with the key words SEO PR. Ignore the paid for, sponsored Google Adwords results. In fact, if the PR SEO company is relying solely on Google Adwords and does not have a top five organic position listing on Google, then you know that they are not for you.
If they cannot promote themselves on the Web, how can they promote your good and or services?"
"Google Adwords are a very powerful advertising tool used by PR SEO New Media and social networking international Internet marketing companies in New York, London and Tel Aviv, but they are not a substitute for having your commercial Website, blogs and news content stand on its own digital legs," says Leyden.
"Adwords are not a substitute for getting out optimized news stories on Google News and PR news releases into the many corners of the Net. Adwords do not substitute for New Media - that is the creation of blogs, professional rooms and forums in Facebook, Google and Yahoo groups and the creation of videos on YouTube."
"The real PR professional of 2010 will know how to break through the noise and place your message in the face of your potential clients - either at home or at the office by bouncing optimized Web and news content off New Media and social networking media channels," says Leyden.
"We have gone from the fax machine to Facebook in less than ten years. The PR professional who has adapted to this media revolution will increase your visibility, media control and ROI."
The Leyden Communications Internet Digital PR, Marketing and SEO Group wishes you and your families a healthy, happy, peaceful and prosperous new year.
###