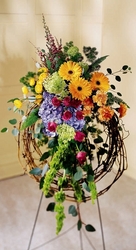 "Our goal is to provide people the easiest way to document their love for the deceased in the funeral setting, where all who attend can know of their relationship; and to 'do good work' in the name of the deceased, through charitable contribution."
Victoria, Texas (PRWEB) December 31, 2009
Clay Atchison, co-owner of McAdams Floral, announced today that he has made an important change to his sympathy flower site, http://www.usfuneralflowers.com. For the past few years, people have been able to easily order sympathy floral tributes through this e-commerce portal, to be delivered to families, or funeral homes.
"We were pleased to serve people living throughout the country, making it possible for them to take care of their sympathy flower needs via http://www.usfuneralflowers.com," said Clay. "But I've long wanted to make it possible not only for people to select beautiful sympathy floral arrangements, but to have a 'charitable donations' option. This way," continued Clay, "people are not faced with an 'either -or' decision. They can now do both: purchase flowers to comfort the family and express their sympathy in this more traditional way, and make a contribution in honor of their loved one at the same time."
The newest addition to the site makes sense, considering today's trend for memorial donations. Many people are now including the often misunderstood phrase, "in lieu of flowers", in their loved one's obituary or death notice. "This leaves their friends and loved ones in a quandary," notes Clay, "their heart, and tradition, both dictate a floral expression of their sympathy; but the family is calling for a memorial donation."
Clay, and his wife Cynthia, co-owners of McAdams Floral, have heard this quandary expressed by their customers time and time again. "They're quick to tell us that in all honesty, there is little physical or emotional reward in simply making a donation, for either the sender or the grieving family." That's why many people still choose to send flowers.
"Flowers are a beautiful way to express the joy in knowing the deceased during their lifetime," said Cynthia. "Really, there's nothing quite like them. We use flowers to express our emotions – and it's been that way for a very long time."
This innovation to Atchison's sympathy flower Web site, http://www.usfuneralflowers.com, makes it easy for people to do both: express their emotional connection to the deceased through flowers, as well as to honor their memory through some of the major charities, including:, the American Heart Association, and the Alzheimer's Association., and the National Palliative Care and Hospice Association.
Site visitors can make either a $10, $20, or a $40 donation, in addition to selecting the perfect sympathy flower bouquet or potted plant, to be sent to the family or funeral home. This new feature is unique among florist Web sites.
"Our goal is to provide people the easiest way to document their love for the deceased in the funeral setting, where all who attend can know of their relationship; and to 'do good work' in the name of the deceased, through charitable contribution."
The owners of McAdams Floral have taken full advantage of the power of the Internet to simplify challenging situations, in the advent of the charitable donation options on http://www.usfuneralflowers.com. Site visitors can purchase sympathy flowers, to be delivered to the family, the funeral home, or church service, and at the same time, make charitable donations in honor of the deceased. This innovation will prove to be extremely valuable to everyone faced with the decision: flowers – or a donation?
Company History
McAdams Floral was started in 1975. For the past 34 years, McAdams Floral has served their community as a full-service flower shop with the emphasis on "service." The Internet has broadened the scope of their service area, but not lessened their commitment to the highest quality of products and services. Their related Web sites, http://www.usfuneralflowers.com, and http://www.inlieuofflowers.info exist to make it easy for people to express their sympathy to friends and family, through a wide selection of floral tributes, and now, the option to simultaneously make charitable contributions.
###