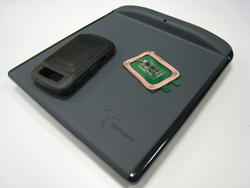 "Put simply, our goal is to facilitate the proliferation and growth of wireless power technology in any and all applications," said WiPower's CEO Rahul Razdan.
Altamonte Springs, FL (PRWEB) December 31, 2009
WiPower, the technology leader in the field of wireless power, announced today the launch of a wireless power design kit aimed at a wide range of mobile products. With the release of the WiPower Mobile Design Kit, product developers will be able to prototype the solution in a day, and have market ready products in a couple of months.
Wireless power is a fundamental technology which can be used by a large number of mobile consumer products. Today, it is very difficult for product developers to gain access to this technology without building significant technical capability. The existing wireless technology players are either building end products or focused on deep IP licensing arrangements with large volume OEMs.
The Mobile Design Kit is based on WiPower's industry leading technology which transfers power wirelessly without the need for precise alignment between the transmitter and receiver in the x,y direction and within limits in the z direction. Thus, the technology can support "through surface" use-models such as under a desk or the other side of a wall. In addition, the technology naturally supports multiple devices all at a compelling cost point. The Kit consists of a wireless power transmitter which can support applications up to 15 Watts, a wireless power receiver which can be integrated with end product, and documentation in simple how-to format that allows engineers without deep knowledge of electromagnetic principles or power electronics to create their own wireless power products. They simply USE the technology for their product. To facilitate the task of prototyping, product design, or volume manufacturing, WiPower has assembled a qualified partner network which can help the customer if desired. Finally, WiPower provides a royalty-free license for the receiver, access to white-labeled transmitters, and standard terms and conditions to facilitate a very low barrier business model for end customers.
"Put simply, our goal is to facilitate the proliferation and growth of wireless power technology in any and all applications," said WiPower's CEO Rahul Razdan. "We envision a situation where innovation can be unleashed with very low barriers to access this technology, so that product designers from phone skin manufacturers to light fixture developers can enhance their value with the use of this technology."
Mantaro is a leading design services supplier with expertise in power electronics. Mantaro has been working with WiPower over a year, and is a qualified design center for WiPower wireless power applications. "The WiPower Mobile Design Kit is an excellent vehicle to prototype a solution, and Mantaro can certainly help customers who would like to extend the core capability for their application segment," said Jeremy Parsons, CEO of Mantaro Product Development Services.
EMS Technologies is a leading manufacturing and services supplier and has been qualified by WiPower for manufacturing wireless power technology. "The combination of EMS Technologies and WiPower can provide customers with an accelerated path to bring their products to market with truly differentiated capability," said Chris Moats, General Manager at EMS Technologies Americas.
Gill Industries is a leading furniture component manufacturer who has worked closely with WiPower over the past year to develop integrated office furniture which can be wirelessly powered. "Using the prototype kit technology, Gill has developed wirelessly enabled LED lamps and cradles, as well as integrated furniture," said Richard Perreault, President and COO of Gill Industries.
The Mobile Wireless Power Design Kit is available immediately for purchase at http://www.wipower.com for $4,500 USD.
About WiPower:
WiPower (pronounced "y-power"), founded in 2004, has developed an induction-based, close range power system that enables the charging of compatible devices when placed on top of the charging pad. WiPower's system has the ability to charge multiple devices simultaneously that are placed in any position or orientation on the pad. For more information on the advantages of WiPower's solution, please visit: http://www.wipower.com/cadvantage.htm. WiPower has partnered with OEMs, accessory manufacturers and design firms, to bring wireless power to consumers in a variety of applications and industries. Headquartered in Altamonte Springs, Florida, the company has offices in Gainesville, Florida and Boston, Massachusetts.
###