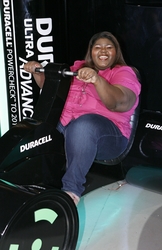 "In addition to our VIP pedalers, more than 125,000 New Yorkers and visitors to the city turned out this year to help Duracell power in the new decade. Each one has played a personal role in one of the most watched celebrations on earth," said Craig Bida,
Bethel, Conn. (PRWEB) December 30, 2009
Actress Gabourey Sidibe, star of the film "Precious," visited the Duracell Smart Power Lab to mark the meeting of the power generation goal to light the 2010 numerals during the New Year's Eve Ball drop ceremony in Times Square. Since the Power Lab opened Nov. 23, thousands of consumers and an array of celebrity VIP pedalers have ridden Power Rovers to generate more than 32,000 watt hours of energy, which will power the 2010 numerals for at least the first 30 minutes.
"Being a native New Yorker, I've always loved how everyone embraced Times Square as the headquarters for New Year's Eve. This year, watching the Ball drop and the numerals light up will be even more exciting knowing that 2010 couldn't happen without me," said Sidibe with a laugh.
Since late November, Duracell has hosted a variety of special guests at the Smart Power Lab, where VIPs participated in power generation – pedaling one of six Duracell Power Rovers to contribute to the almost 1,000 pedaling hours needed to power the 2010 numerals. Sidibe was the final VIP pedaler at the Smart Power Lab, joining celebrities such as "The Twilight Saga: New Moon" stars Chaske Spencer and Peter Facinelli, actors Katrina Bowden, Judah Friedlander and Anika Noni Rose, dancers Kym Johnson and Maksim Chmerkovskiy, and many others.
"In addition to our VIP pedalers, more than 125,000 New Yorkers and visitors to the city turned out this year to help Duracell power in the new decade. Each one has played a personal role in one of the most watched celebrations on earth," said Craig Bida, Duracell brand manager. "Our partnership with the public to light up 2010 is a larger than life symbol of our commitment to do what we do best – delivering power when people need it most."
Powering 2010
New Yorkers and tourists alike have literally helped power the 2010 numerals by visiting the Duracell Smart Power Lab, hopping aboard a Power Rover and pedaling. The rovers operate through rotary technology, so with each push of the pedal, human energy is captured, converted into usable power, and then routed and stored at Duracell Battery Centers. The journey ends at One Times Square, where the stored power will light up the 2010 numerals as the New Year's Eve Ball drops and the clock strikes midnight.
New Year's Blogcast
New this year, worldwide viewers can participate in the New Year's Eve celebration through a live Web event from Times Square. Four co-hosts will cover all the action, including the 6 p.m. Ball Raising ceremony, hourly practice countdowns, stage performances, handouts, special guests and the midnight Ball Drop. Viewers can access the live stream on http://timessquarenyc.org/; http://www.Livestream.com/2010, http://www.Facebook.com/TimesSquareNYC and many other Web sites or on their iPhones at http://www.iphone.livestream.com/2010.
Learn, Recharge and Play
In addition to the opportunity to help light up the New Year, Lab guests can stop by to try out Duracell's latest Smart Power offerings that address the ever-growing and ever-changing power needs of the modern consumer. Visitors can also recharge their mobile electronic devices at Duracell Charging Stations set up throughout the venue. Additional activities at the Lab include playing the latest titles from Microsoft Xbox 360© and capturing a photo with a life-size replica of the 2010 numerals.
The Duracell Smart Power Lab is being held in conjunction with the annual Charmin Restrooms in Times Square, which has returned for the fourth consecutive year. Guests will enjoy two floors of fun: the first offers a free, clean and family-friendly place to "enjoy the go" with 20 clean, deluxe, ADA compliant, family-friendly and fully-staffed restrooms and the second provides a place where they can interact with the latest charging gadgets, re-charge their own devices or help generate the energy needed to illuminate the 2010 numerals.
Hours of Operation
The Duracell Smart Power Lab and Charmin Restrooms are open until 9 p.m. December 30 and from 10 a.m. to 3 p.m. December 31. They are located at 1540 Broadway in Times Square between West 45th and West 46th Streets.
About Duracell
Part of the Procter & Gamble Company [NYSE:PG], Duracell has been powering people around the world for more than 40 years. Our products serve as the heart of devices that keep people connected, protect their families, entertain them and simplify their increasingly mobile lifestyles. As the world's leading manufacturer of high-performance alkaline batteries, Duracell also innovates in single-use, renewable and peripheral technologies and markets general purpose flashlights along with the advanced Daylite® LED flashlights. Visit http://www.duracell.com for more information.
About Procter & Gamble [NYSE:PG]
Four billion times a day, P&G brands touch the lives of people around the world. The company has one of the strongest portfolios of trusted, quality, leadership brands, including Pampers®, Tide®, Ariel®, Always®, Whisper®, Pantene®, Mach3®, Bounty®, Dawn®, Gain®, Pringles®, Charmin®, Downy®, Lenor®, Iams®, Crest®, Oral-B®, Actonel®, Duracell®, Olay®, Head & Shoulders®, Wella®, Gillette®, Braun® and Fusion®. The P&G community includes approximately 135,000 employees working in about 80 countries worldwide. Please visit http://www.pg.com for the latest news and in-depth information about P&G and its brands.
# # #