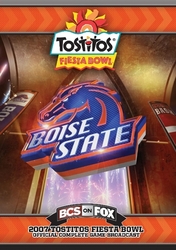 Owensboro, KY (PRWEB) December 31, 2009
It was the game that had everything - dramatic comebacks, remarkable plays, great players and even a post-game marriage proposal - is it any wonder that Sports Illustrated recently named the 2007 Tostitos Fiesta Bowl, a 43-42 win by Boise State over favored Oklahoma, as the best college football bowl game of the decade?
The game featured a frantic comeback by the Sooners that saw Oklahoma score 25 unanswered points in the second half to take its first lead with 1:02 remaining and that's just the start of when things got wild. The two teams combined to score 22 points in the final 1:26 of regulation to go with 15 points in overtime, including three trick plays that helped Boise State win the game to finish their magical season undefeated at 13-0!
After Oklahoma tied the game on Sooner receiver Quentin Chaney's caught a tipped 5 yard TD pass from quarterback Paul Thompson and the subsequent two point conversion with 1:26 remaining, Boise State quarterback Jared Zabransky was intercepted by Marcus Walker, who returned it 34 yards for a touchdown to give Oklahoma a 35–28 lead with 1:02 left. On the ensuing drive Boise State drove to the Sooners 42 when on 4th down and 18 yards to go, Zabransky completed a 15 yard strike to Drisan James, who as Oklahoma defenders closed on him flipped the ball perfectly to Jerard Rabb, who took the ball down the sideline for the game tying TD.
In overtime, Boise State won the toss and opted to play defense. Oklahoma scored on their first play from scrimmage - a 25-yard run by star running back Adrian Peterson. The extra point was good, making the score 42–35 Oklahoma. On Boise State's ensuing drive, the Broncos were down to 4th and 2 on the Sooners' 5 yard line and decided to run their second trick play; Zabransky ran out to receiver while wide receiver Vinny Perretta, lined up at running back, took the snap, rolled to his right, then threw a touchdown to tight end Derek Schouman to bring Boise State within one point at 42–41. Broncos coach Chris Petersen didn't hesitate - he sent the offense on the field to go for two point and the win.
Boise State proceeded to run the game's signature play - a play they called "Statue Left." With three receivers to the right, Zabransky faked a quick pass to his right then quickly handed the football behind his back with his left hand to running back Ian Johnson, who ran untouched into the end zone for the conversion and the win.
During a live postgame interview with FOX Sports, Johnson got down on one knee and proposed to his girlfriend, Boise State head cheerleader Chrissy Popadics.
College football fans can own their own copy of this historic game today. Click here to own the official BCS, commercial-free, complete game FOX Sports broadcast along with special bonus features of one of college football's all-time great games!
# # #