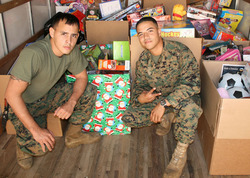 At least once a year, I feel I should share my good fortune with families in distress
Greensboro, NC (Vocus) December 31, 2009
Based in Fort Lauderdale, Nationwide Relocation Services was extremely successful in raising more than 500 toys for this holiday's Toys for Tots drive. Hosted by the U.S. Marines, the beneficial program made an enormous difference in the lives of many underprivileged families. In fact, Nationwide's office served as a highly successful drop off point for the local area. After neighbors and employees of Nationwide Relocation Services donated a massive amount of toys in December, the productive moving company is sure to make a difference in hundreds of families' lives.
The mission of the U.S. Marine Corps Reserve's Toys for Tots Program is to collect new, unwrapped toys during the months of October, November, and December. Each year, they distribute those toys as Christmas gifts to deprived children in numerous communities. The Toys for Tots program strives to deliver a message of hope to deprived youngsters that will assist them in becoming responsible, productive, and patriotic citizens. Over its 14-year life span, the Marine Toys for Tots Foundation has supplemented local toy collections with more than 55.5 million toys. Local Toys for Tots campaigns conduct an array of activities throughout the year, which include golf tournaments, foot races, bicycle races, and other voluntary events designed to generate toys and monetary donations for families in need.
Aldo Disorbo, Owner of Nationwide Relocation Services, is an adamant believer in giving to the less fortunate members of his community. "At least once a year, I feel I should share my good fortune with families in distress," Disorbo explained. "Nothing could make me happier than making a positive difference in a needy child's life."
Nationwide Relocation Services looks forward to collecting double the amount of toys for 2010's upcoming Christmas. The moving company plans to increase its number of charitable items for each year of the future. As long as Nationwide Relocation Services continues to make a positive difference in many underprivileged families' lives, they will take the utmost pride in contributing massive amounts to the Marines' Toys for Tots.
###