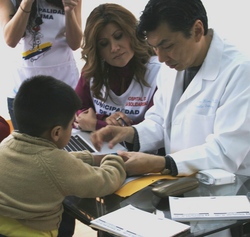 This International Act of Love is a true blessing for the people of Peru and we are honored to receive these incredible miracles from the very talented and generous surgeons and specialists
Beverly Hills, CA (PRWEB) December 31, 2009
Award winning journalist Jackeline Cacho receives humanitarian award at the first annual USA - Peru Operation Solidarity led by Plastic Surgeon Dr. Alex Kim in Lima Peru changing the lives of 38 children.
Over 12 days of arduous work in Lima Peru, International award winning journalist Jackeline Cacho translated and reported on 38 successful operations that were performed by Dr. Kim and the team of doctors in partnership with the Solidarity Hospitals of Lima, along with the Mayor of Lima Peru Mr. Luis Castaneda. Ms. Cacho also gave a motivating speech to employees, nurses, and doctors at the headquarters for Solidarity hospitals thanking them for giving these special children a new vision for their future. The operations corrected severe conditions in children ranging from burns and extreme birth deformities to cleft lips and other unbearable conditions.
"This International Act of Love is a true blessing for the people of Peru and we are honored to receive these incredible miracles from the very talented and generous surgeons and specialists" said Ms Cacho "It is such a blessing to be chosen to help these incredible children and we are grateful to Dr. Luis Rubio, Solidarity Hospitals, event organizer Donald Portocarrero, and Mayor of Lima, Peru Mr. Luis Castaneda." She continued.
This humanitarian effort was documented by Ms. Cacho and international press including honored Peruvian journalist Pepe Barreto, who holds the distinction of having his own star on the Hollywood Walk of Fame.
The Mayor of Lima, Peru Luis Castaneda held a special ceremony recognizing each of the members who contributed to the success of the first USA - Peru Medical Day. Mayor Castaneda presented Dr. Alex Kim with an Honors Diploma and a special Band of Honor for contributing these life-changing surgeries to the children of Peru enabling them to live a more fulfilling life.
Mayor Castaneda also presented Jackeline Cacho with an Honors Diploma for her humanitarian efforts in Peru and around the world and especially recognized her for using her recent position as one of the 25 most influential Latina's in America, from Latino Leaders magazine, to have a positive impact on Latinos around the world with her new television show. " En Familia with Jackeline Cacho" is currently in development for 2010 and is designed to be a very fresh, entertaining and inspiring magnet for today's Latino's in America and around the world.
Ms. Cacho, who is in the process of finishing her autobiography to be published in 2010, also held Women's Empowerment Conference " Movimiento de Superacion" in Los Angeles, CA in March 09, and in Mexico City in September 2009 specifically for today's success oriented Latina's. Ms. Cacho is currently the spokesperson for LULAC California, Ambassador and National Spokesperson for The Peace Alliance, has proudly represented The City of Hope as Official National Spokesperson for The "La Gota De La Vida" campaign, and has also been awarded "Advocate Of The Year" from the Latin Business Association (2007), "National Television News Personality of the Year" from the Hispanic Women's Professional Association (2006), and has received many other awards and recognition throughout her vast career in media for her journalism and humanitarian efforts in the USA, Mexico, Peru, and Israel.
Headquartered in Los Angeles, Ca. Ms. Jackeline Cacho is co-founder of JC Enterprises, Inc., Finding Productions, and Sunlight Art Designs which are privately held companies focused on bringing the best television, events, entertainment, and publications to the Latino community. For all business inquiries or customized sponsorship packages please contact business manager Gary Christmas at 714.915.1183 or just visit http://www.jackelinecachofans.com or http://www.findingproductions.org
###