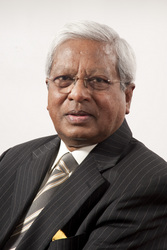 "I am humbled by the honour to be conferred on me. I thank my colleagues in BRAC, who are at the forefront of the struggle to eradicate poverty in Bangladesh and abroad. I share this honour with them."
Dhaka (PRWEB) December 31, 2009
Fazle Hasan Abed, Founder and Chairperson of BRAC, is to be knighted by Her Majesty Queen Elizabeth II for services in tackling poverty and empowering the poor in Bangladesh and more globally. Abed's name was included in the Queen's New Year's Honours List released December 31, 2009.
Abed is to be appointed Knight Commander of the Most Distinguished Order of St. Michael and St. George (KCMG). He is the first person of Bangladesh origin to be honoured with a knighthood by the British Crown since 1947. Abed receives his knighthood for his work spanning four decades in education, health, human rights and social development and for bringing financial services to the doorstep of millions of the poor in an effort to eradicate poverty in Bangladesh and countries in Asia and Africa.
Fazle Hasan Abed was born in Bangladesh in 1936. After completing his education at Glasgow University, Fazle Hasan Abed began his career in the corporate world where he quickly rose to head the finance division of Shell. At Shell, he was exposed to the inner workings of a large conglomerate and provided him with insight into corporate management, which would become invaluable to him later in life.
It was during his time at Shell that the devastating cyclone of 1970 hit the coastal regions of Bangladesh, killing 300,000 people. The cyclone had a profound effect on Abed, in the face of which he decided to dedicate his life's work to helping the underserved.
The small relief aid effort Abed founded with proceeds from selling his apartment in London has since become the largest non-profit in the developing world, with 125,000 employees that impact the lives of over a 115 million people in the world. BRAC understands that poverty is complex and responds with innovative solutions for empowering the poorest people. Abed and his organization have worked predominantly out of the spotlight—to provide poor women and their communities in Asia, Africa, and beyond with access to credit, livelihood development services, health, education, and more.
On receiving news of his knighthood Abed said, "I am humbled by the honour to be conferred on me. I thank my colleagues in BRAC, who are at the forefront of the struggle to eradicate poverty in Bangladesh and abroad. I share this honour with them."
Abed is the second person in his family to be honoured with a knighthood. His grand uncle, Justice Nawab Sir Syed Shamsul Huda, was knighted by the British Crown in 1913.
Media Contacts
In the United States, please contact:
Susan Davis, BRAC USA, cell: + 1 646 239 4411
In Bangladesh please contact:
Tania Zaman, Director Chairperson's Office, BRAC, cell: +8801730013122
Bangla language media: Zia Hashan, Manager, Media Affairs, BRAC, cell: +8801714242912
In the United Kingdom, please contact:
Penelope Mawson, BRAC UK, cell: + 44 (0) 7940 705097
###