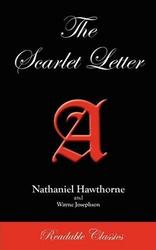 Students can finally understand and actually enjoy The Scarlet Letter.
Charlottesville, VA (PRWEB) December 15, 2009
Causing a debate among educators, and delighting frustrated students, Readable Classics announces the publication of The Scarlet Letter by Nathaniel Hawthorne and Wayne Josephson, the second in a series of rewritten works of great literature. Sample chapters of The Scarlet Letter, Jane Eyre, and the forthcoming Moby-Dick, available at http://www.ReadableClassics.com, reveal that these works are not contemporary retellings, but rather gentle edits of the originals that retain their essence and spirit, and update arcane language to make them more appealing to modern readers.
"Students can finally understand and actually enjoy The Scarlet Letter," says Wayne Josephson, publisher of Readable Classics. "The great classics are riveting, if you can just decipher them. That is our goal--to make them more approachable and less ponderous to those of us without a Masters degree in literature."
The Scarlet Letter takes place in Puritan Boston in the 1600's. Beautiful, defiant Hester Prynne commits adultery, refuses to name the father of her illegitimate child, and is condemned to wear a scarlet 'A' on her breast for the rest of her life.
Nathaniel Hawthorne's 1850 masterpiece gave us the first true heroine in American fiction. It was the first American novel to explore the moral struggle with sin, guilt, and pride; the conflict between the heart and the mind; and the deadly consequences of not being able to forgive ourselves and others.
Readable Classics has also published Jane Eyre, and will release Moby-Dick in February. Other releases scheduled for 2010 include Pride and Prejudice, The Odyssey, and Wuthering Heights.
For additional information, or to request complimentary review copies of The Scarlet Letter, contact Wayne Josephson or visit http://www.ReadableClassics.com.
About the Company
Readable Classics, an independent publisher based in Charlottesville, Virginia, gently edits the works of great literature to make them more accessible to modern readers.
Contact:
Wayne Josephson, Publisher
Readable Classics
434-227-2727
http://www.ReadableClassics.com
###