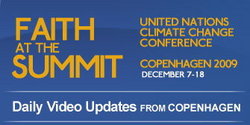 We will definitely start eating again if we see global governments committing to a deal
New York, NY (Vocus) December 17, 2009
Inspired by Mahatma Gandhi and Martin Luther King Jr, climate change activists are sending personal and moral messages to heads of state at COP-15, by embarking on a 40-day hunger strike that began this past November. The strike, headed by Anna Keenan of Climate Justice Fast!, an international hunger strike with fasts taking place in 15 countries, was implemented to demonstrate the severity of climate change and to pressure world leaders to act now. Keenan describes the fast as the highest form of commitment to solving the climate crisis.
Mark Dowd, formerly of the BBC, boarded the Norwegian ship "The Norrona" to conduct an exclusive interview with Keenan for "Faith at the Summit", a web production of Odyssey Networks. "We will definitely start eating again if we see global governments committing to a deal" said Keenan, 23, from Brisbane, Australia, and co-founder of Climate Justice Fast!. "I am a climate change activist for life. I am not in this to die. There are literally hundreds of thousands of people who are dying of climate change every year." This interview can be viewed at http://www.odysseynetworks.org.
The Odyssey site also includes video diaries, blogs, youth-oriented video reports and forums. "Faith at the Summit" launched on December 7 and will continue with video reports from Copenhagen through December 19.
About Odyssey Networks
Odyssey Networks is the nation's largest coalition of Christian, Jewish and Muslim faith groups dedicated to producing and distributing media that promotes causes such as peace, tolerance, social justice and the environment. Established in 1987, Odyssey Networks is a service of the National Interfaith Cable Coalition, Inc. For more information visit http://www.odysseynetworks.org.
###