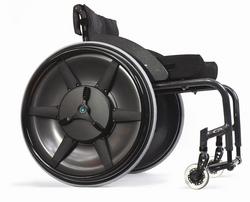 One of the most noteworthy innovations to manual wheelchair wheels in a long time.
Seattle, WA (PRWEB) December 4, 2009
Amidst numerous healthcare budget cuts, Magic Wheels Inc., an innovative manufacturing company of a revolutionary, 2-Geared Wheelchair Wheel has gone against the grain and received a boost, in a recalculated fee schedule from Medicare (HCPCS: code E2227). Beginning January 1, 2010, the U.S. fee will increase to a $3863.21/pair average, up from $3307.60/pair in 2009.
In what HME News has called, "one of the most noteworthy innovations to manual wheelchair wheels in a long time," MAGICWHEELS® 2-Gear Manual Wheels is a wheeled technology solution that fit on most manual wheelchairs and requires zero maintenance.
According to Magic Wheels Inc. CEO, Loren Lyon, "The Medicare increase and a corresponding increase by other 3rd party funding agencies, opens new doors for dealers to provide this technology to manual wheelchair users who benefit the most, all at little or no out-of-pocket cost. When the cost of MAGICWHEELS® is compared to a shoulder surgery or other more expensive alternatives like a power wheelchair, the solution of a mechanical geared wheelchair wheel becomes obvious. "
About MAGICWHEELS®
When in the 1:1 gear ratio, MAGICWHEELS® operates like a standard wheel. But, when shifted into the low or "reduction" gear (with the flip of a lever on the hub), the ratio offers a 2:1 mechanical advantage. Much like shifting into low gear on a bicycle, the reduction gear makes it easier to climb and descend hills. Additionally, shifting to the lower 2:1 gear activates an automatic hill-holder feature that keeps the wheelchair from rolling backwards between pushes on inclines.
While the product promotes increased mobility and physical activity, it is also clinically proven to significantly reduce shoulder pain by over 55%(1), a common problem in the manual wheelchair population ( http://www.magicwheels.com/clinincal-testing/PAIN_STUDY.pdf ). MAGICWHEELS® users offer high praise and endorsements for the product (http://www.youtube.com/magicwheelsvideos ), but the previous CMS fee schedule had limited the availability due to insufficient funding to the dealers.
(1) Finley, M.A., Rodgers, M.M. "Effect of 2-Speed Geared Manual Wheelchair Propulsion on Shoulder Pain and Function." Archives of Physical Medicine and Rehabilitation. Vol. 88, December 2007, pgs 1622-1627.
###