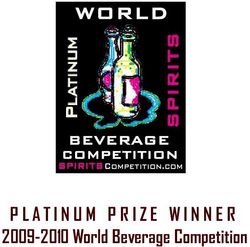 We proudly accept this prestigious honor
Napa, CA (PRWEB) December 18, 2009
In what was again a record setting event, the world's largest beverage competition has awarded Napa Valley Limoncello top honors in the Spirits Division - the Platinum Prize.
About the Competition:
The annual World Beverage Competition was founded on the premise that beverage products should be judged not by the strength of their marketing or the budget of their sales force, but rather by the quality and innovation of the product itself.
This year's winners hail from more than thirty countries. With so many entries, the judging went on until midnight of December 15, 2009 to finalize the winners.
The judges of this annual competition are industry professionals from six different countries. The names of the judges are not announced to the public to avoid any undue influence from brand owners or the media and they do not see the packaging or know the brand name prior to documenting and submitting their tasting scorecards for the competition. Behind closed doors, in a tasting room closed to brand participants and the public, this "double blind" taste test method is one that is most effective in providing honest opinions from the panel.
The World Beverage Competition is a member of the World Trade Organization and complies with all International law. With these safeguards in place, the World Beverage Competition is accredited as the premier tasting event in the world of beverages. Visit spiritscompetion.com for more information.
When all was said and done, Napa Valley Limoncello won top honors and received the Platinum Prize in the Spirits/Liqueur Category for its exceptional Meyer Lemon Limoncello Liqueur.
"We are sincerely honored and thrilled to receive this prestigious award and proudly accept," said Arthur Hartunian, owner of Napa Valley Limoncello.
About Napa Valley Limoncello:
Napa Valley Limoncello is a micro-distillery located in the heart of the famed wine growing region and produces the world's first and only Limoncello made using rare, 100% certified organic Meyer Lemons.
Highly renowned and sought after by the world's top gourmet chefs, Meyer Lemons are prized for their rich, sweet, less acidic and more fruity flavor compared to other lemon varieties. Unfortunately, Meyer Lemons are not always readily available since they only grow a few months out of the year, which makes this unique Limoncello sometimes very hard to come by.
Just like the unique lemons it's made from, the delicious Meyer Lemon Liqueur made by Napa Valley Limoncello is pleasantly and distinctively different than any other brand. "It's our California version of an Italian classic," says Lusine Hartunian, Arthur's wife and co-owner of Napa Valley Limoncello.
This Award Winning Limoncello is rich, juicy and complex with loads of fruit and lemon flavors, a hint of vanilla and honey followed by a long, refined, silky-smooth finish. There's no harsh alcohol burn or bitter, syrupy aftertaste. It's all natural with an uncompromising taste, quality and distinctively unique flavor.
Napa Valley Limoncello is more than a traditional Limoncello. It's an artisan quality beverage that many compare more to a fine bottle of Napa Valley dessert wine than a sometimes syrupy liqueur.
"I recommend you serve it well chilled, but not frozen like other commerical Limoncello brands, so that all the complex flavors come out," said Executive Chef Pino Borelli, of the famed Central California eatery, Gigi's Cucina Italiana, who serves and cooks with Napa Valley Limoncello.
Napa Valley Limoncello - Meyer Lemon Liqueur is a true connoisseur's beverage that can be enjoyed anytime straight or mixed. Visit napacello.com for drink recipes, information about tastings and events or to purchase a bottle.
http://www.napacello.com
http://www.napacello.wordpress.com
###