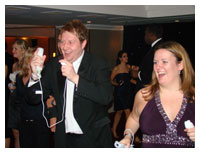 The main focus on our family fun days is to cater for all ages and abilities and offer events that are not only achievable with our client's budgets but also priced very competitively without reducing the quality of the event
(PRWEB) February 05, 2009
Birmingham, UK (PRWEB) February 5, 2009 -- Fradley Croft Corporate events are a specialist events company based in the Midlands region of the UK. They are announcing their fantastic family fun day and entertainment packages for 2009.
Fradley Croft Events provide a great venue within the midlands based just 15 minutes from Birmingham where they can offer some amazing and exciting activities for your next event.Not only is the venue extremely well located with easy access to the M42 and M6 there are plenty of surrounding hotels should your guests require accommodation on the evening.
Fradley Croft Events have a huge amount of exhilarating and new activities for all ages from the new 'Hov Pods' which are a great new design on the usual corporate Hovercrafts to learning duck herding and gun dog handling! Why not include some arena acts or even an 'Its A Knockout' competition to keep the audience and participants amused and of course they can also provide a huge amount of bouncy castles and children's entertainment.
Managing Director James Carruthers "The main focus on our family fun days is to cater for all ages and abilities and offer events that are not only achievable with our client's budgets but also priced very competitively without reducing the quality of the event"
So if you are looking for a great venue within the midlands look no further and check out the web site below for a full list of fantastic family fun day and team building activities.
That's not all Fradley Croft Events also have a great range of interactive evening entertainment ideas should you be looking for some after dinner entertainment for your next summer ball. If it's a themed party evening with a wow factor that will amaze your guests or an entertainment package designed to keep everyone buzzing until the early hours then Fradley Croft Events have the solution.
"We have created some truly great themed parties for our clients over the years and the feed back we get is always surrounded by the word Wow!" says James Carruthers.
Fradley Croft Events have a great range of new and interactive evening entertainment ideas and are always on the look out for fresh ideas to keep their past and new customers coming back for more.
If there was ever a good time to improve on staff morale and encourage people to work together then this is it. So before you start to organise your next event this year consider working with Fradley Croft Events for a successful and professionally managed event.
###