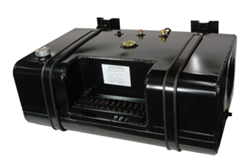 So often, we hear from parts houses or repair shops who need the right replacement tank 'now' to get an expensive piece of equipment back into service
Cleveland, OH (PRWEB) February 20, 2009
Recognizing the need for immediate availability of popular sizes of FHWA certified diesel fuel tanks or over the road truck applications, Cleveland Tank announces an extensive and growing stocking plan to ship replacement tanks within 48 hours.
"So often, we hear from parts houses or repair shops who need the right replacement tank 'now' to get an expensive piece of equipment back into service," according to Jack Sattler, President, Cleveland Tank & Supply, Inc. The new program is designed to resolve that problem for many of the more popular diesel fuel tank applications.
Beginning with the very popular 50 and 75 gallon rectangular, integral step tanks, the list of tanks for immediate shipment includes additional rectangular tanks for popular International Harvester, Freightliner, Sterling, Ford, Volvo, GMC and other applications.
Cylindrical fuel tanks with diameters ranging from 16 inches through 26 inches are available in both steel and aluminum. In additional to providing replacements for damaged or rusted fuel tanks, these tanks are frequently used to add fuel carrying capacity and increased trip radius on mid size import trucks.
A line of replacement diesel fuel tanks for school busses rounds out the tanks for immediate shipment. These tanks are interchangeable with Bluebird, Freightliner, and International Harvester models.
The replacement fuel tank line is supported with a full line of heavy duty brackets including cradle brackets with integrated strap, L-brackets, J-style brackets and basic cradle brackets, that accomplish mounting on frame rails, in-between frame rails, on top of decks or under the deck. Tank mounting straps are available in carbon or stainless steel.
All steel tanks and mounting hardware are provided with a high-end powder coating finish ready for installation.
Available accessories to support fuel tank applications include rubber insulators to protect the tank from chafing at contact points with mounting hardware, a variety of fully adjustable sending units with various popular OHM ranges, as well as matching fuel gauges. Additional parts in stock include flanges, removable draw-tubes, inspection covers, and sending unit flanges in steel, aluminum and stainless steel, anti rollover protection vents, vent tubing, magnetic drain plugs, drain check valves, thermal relief plugs, couplings, and half couplings.
For auxiliary fuel tanks, Cleveland Tank offers a wide variety of sight gauges that can be installed to be visible from the top, end or front of the tank.
A full list of stock tanks is available at http://www.clevelandtank.com.
About Cleveland Tank
Cleveland Tank & Supply, Inc. is located in Cleveland, Ohio in the near downtown area known as The Flats. The company began business as a distributor in 1992, supplying diesel fuel tanks, mounting hardware and accessories to specialty equipment OEMs, body builders, repair shops, and the aftermarket.
In 2002, recognizing customer needs that were not being filled by traditional sources, the company undertook a transition to become a full line manufacturer for all the tanks and mounting hardware they offer. Products include aluminum, steel and stainless steel rectangular, cylindrical and specialty tanks, as well as popular sizes of L-brackets (rectangular), and J-brackets (cylindrical), steel and stainless steel straps and accessories required for proper fuel tank mounting.
###