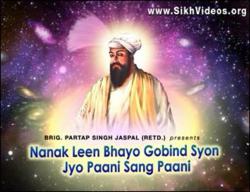 Nanak Leen Bhayo Gobind Syon, Jyo Paani Sang Paani
Chandigarh, Punjab (PRWEB) April 12, 2009
Brig. Partap Singh Ji Jaspal (Retd.) has released a humble tribute at the Lotus Feet of Sri Guru Tegh Bahadur Sahib, the Ninth Guru Nanak. The video album titled "Nanak Leen Bhayo Gobind Syon, Jyo Paani Sang Paani" is a touching treat on the sacred relationship between Guru and Sikh, and on the subject of Martyrdom.
Brig. Partap Singh Ji Jaspal has written in his Book titled Eternal Glory of Guru Tegh Bahadur Sahib, "The last wish of Bhai Mati Das was to die facing his beloved Satguru. For his eyes, it was a divine feast to see his beloved Lord till his last breath. What a wonderful, unique, spiritual nourishment for the soul and body through the blessed eyes! What a rewarding utility of the God-given gift of eyes. He felt absolutely serene in the loving presence of his beloved Satguru, and was grateful to his executors for their gracious role in helping him to embrace martyrdom at the holy feet of his Lord."
The video album covers in detail this holy martyrdom of the three beloved Sikhs of Sri Guru Tegh Bahadur Sahib, Bhai Mati Das Ji, Bhai Sati Das Ji and Bhai Dyala Ji, carried out in the very presence of their Satguru.
It is available in its entire length for free viewing on the Guru Nanak Daata Baksh Lai Mission's websites - http://www.SikhVideos.org, http://www.SriGuruGranthSahib.org and http://www.Tercentenary2008.org.
The video may also be viewed on Television in the USA, on the reputed American Punjabi TV channel, Jus Punjabi, as part of the weekly telecast of the mission's programs on Saturday and Sunday at 6:30 pm (EST) and in India, on the DE TV channel at 6:00 am and 5:30 pm (both Indian Times).
About Guru Nanak Daata Baksh Lai Mission:
Guru Nanak Daata Baksh Lai Mission, through which the productions and publications of Brig. Partap Singh Ji Jaspal (Retd.) are released, is at the forefront of promoting universality of Sikhism and its Divine Content, embracing the whole mankind as one global family of the sole beloved God. It reaches out to the world through the mediums of internet, TV channels, audio and video productions, and book publications. The mission seeks no publicity and serves the whole global community in the firm belief of oneness of godhood and oneness of the mankind. This mission is purely a labor of love of a family group and is based at 203, Sector 33-A, Chandigarh, Phone: +91 172 2601440.