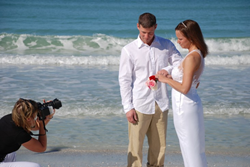 Brides and grooms just don't have the disposable income they used to
Saint Petersburg, FL (PRWEB) April 05, 2009
When Claire Copeland started shooting portraits for friends in 2006, she had no idea her hobby would become a passion, then grow into a half-million dollar wedding planning company with several full time employees.
But it did. Simple Weddings, an offshoot of Copeland's photography business, Simple Treasures Photography, saw double-digit growth for several years from 2008 to 2012 and grew into one of the most sought-after destination wedding planning companies in the Tampa bay area.
Then, when Copeland's husband accepted a new full time position that took him away from the company in 2013, she was left running a busy wedding planning and photography company on her own, while still trying to balance the demands of her photography clients and a hectic family life. "Almost immediately, we realized we needed to sell the business", says Copeland, "preferably to new owners with the energy and the time to take it to the next level".
Luckily, Copeland found those new owners in June 2013, and after selling Simple Weddings to new owners Anthony Meiring and Amber Small, has been able to focus on her passion - wedding and portrait photography. "It's so nice to be able to do what I love without all the distractions of running a larger business", says Copeland, "It's like a breath of fresh air and I'm able to focus more on doing what I love and capturing my clients' memories!"
By all accounts, business is booming on both sides. Simple Weddings was split off in a seamless transition, and Copeland still operates Simple Treasures Photography. She offers St Petersburg wedding and portrait photography packages to locals and well as couples and families visiting on vacation, and even still shoots weddings for the company she used to own, drawing on her experience as a wedding planner to excel at wedding photography.
For more information, check out her St Petersburg Florida Photography website, or call 727-502-7269.