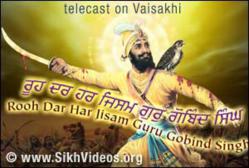 Eternal Glory of Guru Gobind Singh Ji and The Khalsa
Chandigarh, Punjab (PRWEB) April 12, 2009
Special program on Vaisakhi, the sacred day of creation of the Khalsa, will be telecast on the reputed Punjabi Channel JusPunjabi on April 14th from 5:00pm to 6:00pm EST (Eastern Time).
The program has been produced and directed by Brig. Partap Singh Ji Jaspal (Retd.). Offered as a humble tribute at the lotus feet of tenth Sikh Guru, Sri Guru Gobind Singh Sahib, it features divine discourses which touch upon the real stories (saakhis) from the holy life of Sri Guru Gobind Singh Ji and His beloved Sikhs, and melodious Gurbani Kirtan. It is a fully animated programme and makes extensive use of the latest 3D technology to depict in a befitting manner those soul-stirring moments of 1699.
Brig. Partap Singh Ji writes about Vaisakhi in one of his famous works "Eternal Glory of Guru Gobind Singh Ji and The Khalsa" - "It was a holy setting and there were holy expectations. The Guru unfolded his divine plan in a unique manner the like of which had never occurred earlier in human and spiritual history. He wanted a practical translation and demonstration of the holy utterance of Sri Guru Nanak Sahib - If you yearn to sport love-divine, you can gain entrance to the arena of love with your head on your palm. And once you have set out on this path of love, offer and laydown your head with least concern for anything else." Watch this program to see this holy setting visually depicted and to understand the religious importance of this sacred festival.
You may learn more about the writings of Brig. Partap Singh Ji on Vaisakhi and other religious topics and about the programs produced by him at his non-profit websites - http://www.Baisakhi1999.org and http://www.SriGuruGranthSahib.org
About Guru Nanak Daata Baksh Lai Mission:
Guru Nanak Daata Baksh Lai Mission, founded by Brig. Partap Singh Ji Jaspal (Retd.), is at the forefront of promoting universality of Sikhism and its Divine Content, embracing the whole mankind as one global family of the sole beloved God. It reaches out to the world through the mediums of internet, TV channels, audio and video productions, and book publications. The mission seeks no publicity and serves the whole global community in the firm belief of oneness of godhood and oneness of the mankind. This mission is purely a labor of love of a family group and is based at 203, Sector 33-A, Chandigarh.