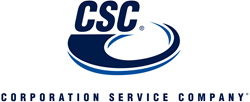 (PRWEB) April 21, 2009
Corporation Service Company® (CSC), a leading global solutions provider, announced, "Going Green - How Legal Departments Can Save Time, Money, and the Environment," the latest installment in their ongoing series of complimentary online web seminars. The web seminar features industry experts who will speak about recent "green" developments in the legal field, highlighting how corporate legal departments can reduce their environmental impact while reducing costs.
The web seminar will take place on Earth Day, Wednesday, April 22, 2009. Carolyn Kaplan, Counsel and Chief Sustainability Officer for Nixon Peabody LLP, will share case studies about legal departments that have gone green and highlight sustainability guidelines that have been developed by the American Bar Association (ABA) and various state bar associations. Bettina L. Riveros, an attorney and Director of Product Development for CSC, will share how green initiatives have changed their business and discuss how companies can more effectively manage their corporate, legal, and transactional matters while eliminating or greatly reducing paper usage.
Since 2005 CSC has provided clients with electronic copies of their legal documents, including historical SOP data, through their web-based matter management platform. In January 2009, the company introduced the CSC® DealRoom - a virtual deal workspace where electronic images of client documents are delivered. This enables clients to manage and organize every phase of a deal, from marketing to due diligence to closing. In the last few years alone, CSC has helped clients reduce paper usage by more than 40 million sheets of paper, resulting in bottom-line cost savings for their clients. It is estimated that this paper usage saved more than 4,800 trees, prevented the carbon release of 800,000 pounds, and power usage of 600,000 kilowatt-hours.
"For 110 years, it has been our great privilege to serve the needs of corporations and law firms across the globe," said Bruce R. Winn., president and chief executive officer of CSC. "Hosting this web seminar on Earth Day is part of our continued commitment to help clients make simple changes that can dramatically reduce resource consumption and provide immediate and positive results for their business."
The hour long web seminar is scheduled for April 22 at 11:00 A.M. Eastern Time and at 2:00 P.M. Eastern Time. Each session will include an interactive question-and-answer session. Registration is free and available via http://tinyurl.com/cscwebinar.
About CSC
Corporation Service Company, a privately-owned service organization, provides matter management, corporate compliance, and trustee services for companies and law firms worldwide; corporate identity protection services for top global brands; and due diligence and transactional services for the world's largest financial institutions. Founded in 1899, CSC has more than 1,100 employees located throughout North America and Europe and is one of the largest registered agent providers in the United States. To learn more about CSC, please visit http://www.cscglobal.com.
###