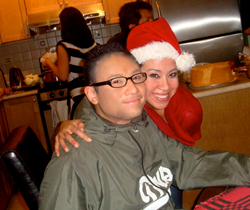 (PRWEB) May 17, 2009
Las Vegas, NV Thanks in large part to Twitter, a one-woman fight to get her severely ill brother a much-needed heart transplant has turned into a major grassroots campaign throughout the social media community, applying pressure on government authorities to prevent a tragedy resulting from a flawed domestic healthcare system.
Veronica De La Cruz, a former CNN anchor and reporter based in New York City, has experienced first-hand the influence and freedom of speech which such a position offers. Yet, she found herself to be as exposed to the flaws of the healthcare system as anyone else when her brother's condition became life-threatening.
Her brother, Eric De La Cruz is dying in Nevada. He is suffering from severe dilated cardiomyopathy and needs a heart transplant immediately. His heart, weakened and enlarged, is now incapable of pumping blood efficiently. The diuretic-type medications which he is currently taking are no longer working well. Making matters worse, he cannot get health insurance because of a pre-existing condition.
Eric's young age, however, makes him a great candidate for a heart transplant. Unfortunately, because of where he lives, he is unable to get his name on the transplant list.
He lives in Nevada, where there are no transplant centers. And because he has Nevada Medicaid, authorities will not put him on a list to have a heart transplant in another state. To the friends and family of Eric De La Cruz, it certainly appears to be a very flawed system.
Eric's case is pending in the Nevada courts, scheduled to be heard in a year - time he certainly does not have. The reality is that Eric isn't asking or expecting more from the Federal program than if he had simply lived in a different state.
Veronica De La Cruz has been tirelessly lobbying Sen. Harry Reid and the rest of Nevada's Congressional delegation, as well as the Department of Health and Human Services, in a one-woman attempt to bring attention to her brother's plight, but with few results.
Now, in what may be a last resort, De La Cruz has turned to social media network Twitter. There, her plea regarding her brother's plight has engaged the interest of thousands of fellow social media enthusiasts, including "The Expert", who was instrumental in a successful Twitter-based effort to locate a missing teenager last month. In all, hundreds of thousands of Twitter followers have likely been made aware of Eric's case, which appears to be helping to attract some of the biggest names on Twitter to support the cause.
Collectively, their efforts - multiplied through social media networking - may put new pressure on authorities on Eric's behalf. If some in state and federal government have been slow to move on De La Cruz' pleas earlier in her battle to get Eric a life-saving transplant, they very well may be stepping up their action soon now that hundreds of thousands of tweets are zooming through the blogosphere.
More information about Eric De La Cruz' battle for a heart transplant can be found online at those websites and at http://www.weloveeric.com. On Twitter, you can follow developments at http://www.twitter.com/VeronicaDLCruz or by simply following @VeronicaDLCruz.
# # #