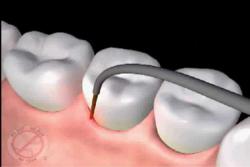 Patients with periodontitis should try to reduce their risk factors and take preventive measures at an early stage.
New York, NY (PRWEB) June 01, 2009
Manhattan periodontist Eric Linden has long suspected a connection between gum disease and heart disease. Now European researchers have identified a genetic link between periodontitis (gum disease) and cardiac arrest, and Dr. Linden is speaking out about the advanced laser periodontal procedures he has been using in the fight against oral bacteria that may cause cardiac arrest.
'These new results confirm the approach that I was among the first to practice in New York, to use laser periodontal surgery to effectively eradicate bacteria in the oral cavity that are similar to those in coronary plaque,' said Dr. Linden, who is responding to multiple speaking requests since the study was published last week in the journal PLoS Genetics.
'The American Journal of Cardiology and the Journal of Periodontology recently published recommendations for cardiologists to examine a patient's mouth, and periodontists to ask questions about heart health and family history of heart disease. That's important, but there haven't been any studies that proved that link until this one in PLoS Genetics. It identifies a common gene mutation in people with periodontitis and heart attack patients.'
Gum disease and heart disease are two of the most common afflictions facing populations in the U.S.--and worldwide. More than 75 percent of Americans over 35 have some form of gum disease, and 26% of adult Americans 20 years and older have destructive periodontitis. A CDC study found that heart disease accounted for 27.1% of all U.S. deaths -- at 2,400 deaths each day, the leading cause of death in almost every ethnic group.
'Aggressive periodontitis has shown itself to be associated not only with the same risk factors as heart disease, such as smoking, but it shares, at least in parts, the same genetic predisposition with an illness that is the leading cause of death worldwide,' said lead researcher Dr. Arne Schaefer of Keil University in Germany.
'Now we know for sure that there is a strong genetic link,' said Dr. Schaefer. "Patients with periodontitis should try to reduce their risk factors and take preventive measures at an early stage."
Getting at the Root of the Problem -- Laser Periodontal Surgery
Dr. Linden, who has offices in both Manhattan and Woodcliff Lake, NJ, agreed. Dr. Linden has always suspected a strong link between periodontitis and cardiac arrest. 'So as Dr. Schaefer reminds us, it's important to treat periodontitis right away, and take a thorough approach in eradicating the bacteria from the affected area,' said Dr. Linden.
Limited research suggests that the use of an FDA-cleared laser protocol eradicates bacteria similar to those found in coronary plaque and allows for healing with true connective tissue attachment.
Dr. Linden added, 'with laser surgery, the patient experiences less bleeding, swelling and discomfort than with traditional surgery.'
New York Laser Surgery Pioneers Speak to New York
Dr. Linden opened the first specialty office in New York City to practice FDA-cleared laser periodontal surgery. He uses LANAP -- Laser Assisted New Attachment Procedure -- the only FDA-cleared laser protocol for the treatment of periodontal disease.
'LANAP targets specific, destructive bacteria that cause periodontal disease. By providing complete sterilization of the 'pockets' in the gum tissue surrounding the teeth, the laser procedure leaves a very healthy environment for reattachment of the tooth to the bone. All in all, it's a minimally invasive procedure for the treatment of gum disease,' noted Dr. Linden.
'LANAP is a very specific procedure which requires thorough and standardized training,' he added. Training to be qualified to perform advanced LANAP techniques entails nearly a year of seminars and live patient care.
Despite the many advantages of laser periodontal surgery, most periodontists have been slower than Dr. Linden to adopt it. His success with the LANAP procedure, coupled with the conclusive research from Dr. Schaefer's team, has motivated him to lecture frequently about the procedure throughout the New York metropolitan area.
Since publication of the PLoS Genetics study, he has received many speaking requests to help explain the results and how periodontal procedures may benefit coronary health. He will also deliver a one-hour talk at the Greater New York Dental Meeting in December, the largest meeting of dental professionals in the United States. At the meeting, he will discuss laser periodontal surgery and its effectiveness in eliminating disease and bacteria connected with coronary conditions.
Laser Periodontal Associates of New York
Dr. Linden's office, located at in the Lincoln Towers at 170 West End Ave, 1L in Midtown Manhattan offers LANAP™ FDA-cleared laser surgery for periodontal care. Dr. Eric Linden has 27 years of experience in traditional periodontics and has also received extensive training in implantology.
Eric Linden, DMD, MSD specializes in the field of laser periodontal surgery, periodontics and dental implants. He has had a specialty practice since 1985.