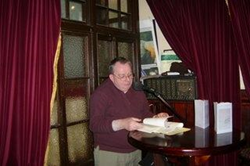 Exits & Entrances: Producing Off-Broadway and Beyond, 1981-2006
New York, NY (PRWEB) August 01, 2009
Award winning Director Daniel P Quinn earns kudos in The Irish Post, Wisconsin, Montclair Times, The Star Ledger, Bergen Record, Amazon.com and Italian Voice.
Daniel P Quinn, author, available for book signings of 'Exits & Entrances: and a talk on Opera' at LaScala and his career Off-Broadway. Program to include his interview on National Public Radio for his first book "organized labor" (2004). Contact Author House at 888-280-7715 or http://www.authorhouse.com.
ArtsPRunlimited announces Daniel P. Quinn is available for book signing appearances for "Exits & Entrances: Producing Off-Broadway and Beyond, 1981-2006" at colleges, universities or book stores by contacting Danielpquinn684@gmail.com. or ArtsPRunlimited via Amazon.com.
Exits & Entrances was a selection of the week in NJ Ink by The Star Ledger (2008), received a front page article in The Italian Voice (2008), and a rave review from the current issue of The Irish Post (Spring, 2009) and The Montclair Times (April 3, 2008).
Daniel P Quin has also produced Arts Festivals on Snug Harbor, a 5 Year Lyons, France, Paterson Festival, and special events in NYC. Quinn was also the recipient of the Short Play Festival Award, The Irish Institute Award, and co-producer of the OBIE award winning Tim McDonell, in Diary of a Madman.
Mr. Quinn was formerly affiliated with the Bickford Theatre, Park Theatre, Foundation Theatre, Lincoln Center and Irish Arts Center, where he served as Associate Producer, Producer and Guest Director. His notable works included Janet Noble's Away Alone; Graham Reid's Remembrance, Tom Murphy's The Gigli Concert with Kate Burton, the Obie Award winning Tim McDonnell as Best Actor in Diary of a Madman, revivals of Sean O'Casey's Bedtime Story, and Frank and Malachy McCourt's A Couple of Blaguards. He was also a guest of Aer Lingus at the Dublin Theatre Festival in Ireland. His musical productions have included Berlioz' The Childhood of Chrisy (l"Enfance du Christ), the Brecht/Weill musical HAPPY END, the 1890's musical collage AFTER THE BALL, and The Olde American Way including music by Foster, Gottschalk, and Culver.
Since then, he has also co-directed the controversial Black Jesus Passion Play at the Park Theatre in 1997 and 1998. Most recently, he has been affiliated with the Bickford Theatre in Morristown as a Guest Producer with John Trause's epic Latter-Day Litany, Opera Bis, Yeats' PURGATORY with Mickey Kelly, and After The Ball. He has also curated several art shows since 2005-09 at Trapezio Cafe, Nutley, NJ, and the Vice-Counsel of Itay, Newark, NJ, with works by Antonio Masini.
Mr. Quinn's "organized labor" was a feature on National Public Radio's Early Morning program with Bonnie Grice in Southhampton, NY. 4 Star Reviews from Sensations magazine, and Davidson Garrett which are on the web. The Lincoln Center Library, and the Drama Book Store have also featured Quinn's work. The Village Voice named it Best Book of the Week when it was presented at the Bowery Poets Cafe, and later @ The Morris Museum, Rutherford & Paterson Libraries and the Grover Cleveland National Landmark. organized labor also received noted support in The Belleville Times, The Coast Star, and listings in the NY Times as well.
Both books are also for sale on the web at your independent book seller. They are also for sale at the Landmark Tavern, Drama Book Shop in Manhattan or on the web at http://www.Barnes&Noble.com, or http://www. Amazon.com.
Contact AuthorHouse l-862-208-0151 for bulk orders and press copies of Mr. Quinn's books.
###