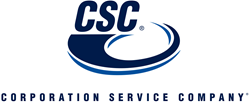 Wilmington, DE (PRWEB) August 07, 2009
For the third consecutive year, The News Journal (Delaware's leading newspaper) has named Corporation Service Company® (CSC) as a "Best in the Business " company. CSC, a privately held company, provides legal and financial services to corporations and law firms.
The Company Corporation® (TCC), an affiliate of CSC, was also named as a "Best in the Business" company. Both CSC and TCC maintain their headquarters in Delaware, where a majority of Fortune 500®* companies incorporate.
The News Journal bases its "Best in the Business" ranking on thousands of anonymous surveys completed by employees, executives, and members of the business community. Critical workplace factors that affect the rankings include management, work/life balance, pay, and benefits. On the 2009 list, The News Journal ranked CSC 5th overall for Large Companies (500 or more employees) and TCC 15th overall for Small Companies (100 or fewer employees).
"CSC prides itself on hiring bright and highly motivated people who are committed to superior client service and making a difference in the lives of our clients," says Jackie Smetana, Vice President of CSC. "Needless to say, we're extremely proud to receive this recognition for the third consecutive year and to earn this great praise on behalf of our employees."
"Three consecutive years on this prestigious list is certainly noteworthy, but what really impresses me is our employees' ability to adjust quickly to the current economy and provide our customers with valuable services," says Bruce Winn, CEO and President of CSC. "We work as a team to achieve great success. I am truly proud to work with everyone here at CSC."
CSC has several excellent employment opportunities in its Wilmington, Delaware, headquarters and at other locations worldwide. This includes positions in sales, customer service, account management, information technology, and management. To apply, visit http://www.cscglobal.com/careers.
About CSC
Corporation Service Company, a privately owned service organization, provides matter management, corporate compliance, and trustee services for companies and law firms worldwide; domain name management and brand identity protection services for top global brands; and due diligence and transactional services for the world's largest financial institutions. Celebrating its 110th anniversary, CSC has more than 1,000 employees located throughout North America and Europe and is one of the largest registered agent service providers in the United States. To learn more about CSC, please visit http://www.cscglobal.com.
*Fortune 500 is a registered trademark of Time, Inc.
Contact:
Stephen Butler
Corporation Service Company
302 636 5401 - ext 3444