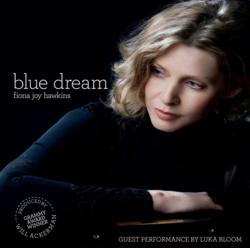 I wrote the music for this album in six months
(PRWEB) August 25, 2009
The headlines may read like a dream tale now, but the road to musical success has been long for Australia's reigning New Age composer and pianist, Fiona Joy Hawkins, who is about to become that country's first indie artist to release an album on SA-CD.
Hawkins began playing piano at age eight, but she was in her thirties before she could get back to her music as a career; she is making up for lost time by composing and producing some of the most exciting music available today, as presented in BLUE DREAM and the rest of the Little Hartley Music catalog.
"I had my family at a young age, and we struggled with my son's Asperger Syndrome. Thankfully, I always had the piano to keep me going, as well as my painting. When I would listen to George Winston, I felt so inspired; I couldn't help but hear a little voice inside me saying…compose…you can do it!"
Hawkins, whose music crosses genres from classical to world fusion, found embarking on a musical career later in life a bit daunting. "It was lonely, doing this from rural Australia. Most people never returned my phone calls or letters. Sometimes, I'd email or post comments on websites like Luka Bloom's…I never expected that he was actually reading them, and would eventually ask if he could perform on my album."
Hawkins persevered with composing and recording, releasing her first album PORTRAIT OF A WATERFALL in 2005. It went to #1 on the New Age Radio (NAR) Charts, made the top five in the MusicOz Awards for the classical genre, and was a finalist for Best Piano Album at the 2005 NAR Lifestyle Music Awards. Encouraged by her bit of success, Hawkins followed with ANGEL ABOVE MY PIANO, which won Best Piano Album at the NAR Lifestyle Music Awards in 2006. Her third album, ICE: PIANO SLIGHTLY CHILLED also rose to #1 on New Age Reporter's Top 100 New Age/Ambient/World Radio/Internet Airwaves Chart, and also won a Best Dance Dub/Club NAR Award in 2008.
After those three commercially viable and critically-acclaimed albums, the phone began to ring. Hawkins' most exciting telephone conversation was with Will Ackerman, founder of Windham Hill Records, during which he asked if she'd like to record her next album at his studio in Vermont.
"Fiona Joy Hawkins' BLUE DREAM began as the most ambitious project of my entire career and resulted in one of the most remarkable collaborations this genre has ever known. BLUE DREAM is unique and I'm as proud of it (and Fiona) as anything I've ever worked on in my 35-year career of Grammy® Awards and gold and platinum records," Ackerman shares.
Hawkins wrote and recorded BLUE DREAM at Ackerman's Imaginary Road Studios on a Steinway piano. The project was ambitious in scope: a 68 minute suite of music performed by an all-star ensemble, incorporating world fusion elements and instrumentation, with lyrics in Gaelic and Lugandan.
"I wrote the music for this album in six months," notes Fiona. "It was a very emotionally turbulent time in my life and the music reflects how I felt as I was looking backwards and looking forward. The album goes from quiet contemplative piano to full orchestral, to world sounds, rhythms, jazz influences and back again to the 'Bach moment' - all in a breath."
In addition to Hawkins and Ackerman, the musical talent on BLUE DREAM includes Luka Bloom, Lilith, T-Bone Wolk (Hall & Oates), Eugene Friesen (Paul Winter Consort), Jeff Haynes (Pat Metheny), Marc Shulman (Jewel and Suzanne Vega), Heather Rankin (The Rankin Family), Philip Aaberg, Jeff Oster, Jill Haley, Samite Mulondo, Sapphron Obois and other top players.
The album was produced in surround sound, and is available in traditional CD format as well as SA-CD. According to Hawkins, the team didn't try to re-create an accurate live sound stage effect, but rather a Soundscape Experience that creates more of a dream effect. The album was engineered and mixed by Corin Nelson and mastered by the legendary Bob Ludwig of Gateway Mastering.
In Ludwig's opinion, "Fiona Joy Hawkins plays with great imagination and beauty. Every measure of this sensitive recording is carefully considered, it takes the listener on a wonderful journey."
Since charting with the highest rank in the history of the International NAR Charts and winning a MusicOZ Award, BLUE DREAM awakened Hawkins career to a worldwide publishing deal and a record deal in Australia with ABC Records. While she is fielding label offers from other countries, she will proceed with an independent release of the BLUE DREAM SA-CD from her Little Hartley Music imprint.
Veteran New Age Music critic Bill Binkelman called the album "An exemplary release, one of the best of 2008." He added, "BLUE DREAM is a must-have album for fans of Hawkins and of Ackerman's other recent productions, as well as devotees of contemporary piano and ensemble recordings, for which it sets a new standard of emotional depth, production quality, and musical variety."
Hawkins comments, "Most important are the letters I received where the music has changed someone's life, or encouraged them in some way. That's why I do this. That spurs me on more than anything; it's really all I have to give."
About:
Fiona Joy Hawkins is a New Age composer and pianist whose music crosses genres from classical to world fusion. She has won the 2008 MusicOz winner for Best Jazz or Classical Artist, Best Piano NAR Lifestyle Music Awards 2006 and Best Dance Dub/Club 2008, and has been a finalist in over 32 Indie Artist Awards across 9 countries. Her latest album, BLUE DREAM, received the highest ever ranking in the history of the New Age Reporter International Radio Charts, debuting at #1. Her musical influences include George Winston, Michael Nyman, Chopin and Mendelssohn, but she also admits to being a "bit of a folkie" in her free time.
Discography:
PORTRAIT OF A WATERFALL
ANGEL ABOVE MY PIANO
ICE - Piano Slightly Chilled
BLUE DREAM (in both CD and SA-CD)
Links:
Website: http://www.fionajoyhawkins.com.au
SA-CD: http://www.cdbaby.com/cd/FionaJoyHawkins1
###