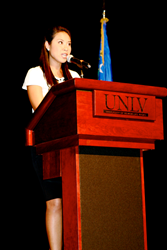 You can have everything in this day and age. Material goods, wealth. A job. A good family. Friends. You can have celebrities rally for you to raise money when you get sick,
(PRWEB) September 03, 2009
Las Vegas, NV (PRWEB) September 3, 2009 -- Though he passed away nearly two months ago, Eric De La Cruz is now influencing the debate over health care reform through his sister's compelling account of his struggle for insurance to cover a needed heart transplant and the subsequently devastating effects of a broken health care system.
Speaking alongside Sen. Harry Reid (D-NV) at a health care reform event on August 31 at the UNLV Student Union in Las Vegas, television journalist Veronica De La Cruz shared the emotional story of how her brother Eric was denied coverage by private insurers because his diagnosis was considered a pre-existing condition and how - by the time he received disability coverage under Medicare this summer - doctors told her it was too late. The rally was sponsored by the Nevada State Democratic Party.
"We are at a dramatic moment in history. And we have the opportunity to change things. We are on the brink of creating a system where basic health care is a right. It will no longer be a privilege reserved exclusively for the wealthy or for those who are already healthy," De La Cruz told the audience of nearly 1,000 in attendance.
De La Cruz, a former CNN anchor and internet correspondent who is now with the TV Guide Network, said she views her public advocacy of health care reform as a responsibility, a way of honoring her brother. In addition to appearing at Monday's event with Reid, she spoke at a rally in Times Square this past weekend and recently returned from a trip to Washington, D.C. where she met with the offices of several members of Congress to discuss the status of reform legislation and her brother's case.
De La Cruz supports the principles for reform outlined by President Barack Obama, aimed at improving access and lowering costs. In sharing what happened to Eric, she has targeted her efforts at promoting provisions that prevent health insurance companies from denying coverage to people with preexisting conditions or rescinding coverage for sick people. She also favors the inclusion of an affordable public option to help create competition, ensure inclusion and drive costs down.
On August 29, De La Cruz joined members of Congress and health care professionals to energize an audience of nearly 3,000 people gathered to support reform efforts in New York's Times Square. The event, sponsored by NYC For Change, Health Care for America NOW and Organizing For America, called on supporters to send Congressional leaders back to work in Washington with a clear message on getting a reform bill passed.
"You can have everything in this day and age. Material goods, wealth. A job. A good family. Friends. You can have celebrities rally for you to raise money when you get sick, " De La Cruz told a enthusiastic crowd of supporters that had braved poor weather to fight for reform. "But the truth is, at the end of the day, you have nothing if you don't have your health. Protect your right to health care."
Of her recent trip to the nation's Capitol in early August, De La Cruz was cautiously optimistic about the reaction her brother's story received, but warned much work still needed to be done. She had scheduled meetings with representatives of Rep. Nancy Pelosi, Sen. Richard Durbin, Rep. Dina Titus, Sen. Charles Schumer, and Sen. Kirsten Gillibrand, in addition to meeting personally with Sen. Reid, the Democratic Majority Leader guiding the reform effort through the Senate.
De La Cruz criss-crossed the halls of Congress, speaking with those on both sides of the health care debate. She was able to share the details of Eric's struggle and offer her perspective on how health care reform can help prevent it from happening to others in the future.
"Getting through to people on the Hill was interesting. It was difficult at times, and when it was, I found myself calling on Eric for strength. Whenever I felt there was no possible way for me to tell his story one more time, I would ask him to help me," she later shared with her group of online followers, dubbed Eric's Twitter Army. "We've come such a long way, but the fight is far from over. I won't stop pushing for action from Washington until everyone is afforded the basic health care rights that were denied to Eric and our family."
In an effort to honor her late brother's memory, De La Cruz is currently scheduled to advocate for health care reform at other upcoming events around the country. For more information, please contact her at 888-880-4980.
###