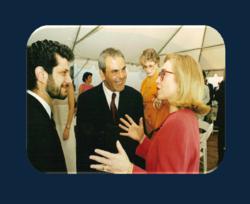 Aspects of the Other Self.
(PRWEB) September 15, 2009
Springfield, VA La Fleur Musicalle announces the launch of MasterMyOwnMind.com, featuring author Ronald B. Kublawi's new online book "Aspects of the Other Self." Kublawi's new EBook examines and takes a crack at the concept of "oneness" by means of inspirational thoughts, profound emotions and imaginative portraits. As a gift from the producer, readers will also receive the instrumental CD albums "Soul Mates" and "Blessed Child".
Delivered to Kublawi, the author makes no claim of originality to the thoughts and emotions he expresses in the book, but rather conveys his being as an Aspect of the reader. In dedication he writes that "we are all Aspects of one another, and though we have been fashioned in varying casts and shades, the elements of our common red blood are still at the crux of our hearts". As one typically learns what one preaches, the book may well be a vehicle for the author's own experiment of self healing.
"Aspects of the Other Self" is delivered in subtle quotes and aphorisms enhanced with breathtaking portraits to reach a reader's heart and soul. It is a reminder not to forget "to give love and receive love, while the world needs every being to love oneself, for its own healing".
"It is in human nature to be intrigued by challenging questions and statements such as 'I Create my Own Reality.' Many people feel powerless when they experience themselves as victims of situations, relationships and circumstances. Others might be empowered to believe they set the course of their own outcomes. What an agonizing paradox as the majority of us might unknowingly be caught in between," Kublawi says. "What about all the starving people, victims of wars and natural disasters, the sudden death of a newborn child and so on? Did they all create such realities for themselves?"
Eastern philosophy, unlike traditional religious beliefs, suggests the soul has the option to reincarnate itself into the physical on countless occasions. In other words, these philosophies suggest life is relatively not so terrible -- if we happen to suffer this time around, there are millions of chances to perfect it the next time around. Without an individual experience or a personal recollection of these presumed lifetimes, one may never know, thereby leaving the concept of reincarnation to remain theoretical.
Throughout history, scientific, philosophic and spiritual leaders tried to help mankind by sharing their own experiences to unveil secrets of life and shadows of the afterlife. If the concept of "we all create our own reality" holds, Kublawi says, then the experiences of all such leaders remain in their individualistic reality and individuals will have to experience their reality to validate their teachings.
Many have dedicated their entire lifetimes in search of finite answers. Einstein scientifically proved that "time is an illusion". Jiddu Krishnamurti spent 70 years teaching that "you are the world and the world is you". Khalil Gibran wrote "how can my heart be unsealed unless it is broken". Kublawi examines if there is a common central link among such masters.
"Without British rule, there is not a Ghandi. Without a homeless man, there is not a reminder of social indignity. Without oppression, there is not a concept of freedom and human rights. Without love, there is no fear of losing the love. Without cause, there is no effect. What about the 'central energy' of all such opposing dualities?" Kublawi says.
"Are we victims or miracle makers? When do we intend on celebrating our lives and know that we are loved? Do we ever focus upon that 'unit of energy' that dances between the cells of our bodies and bounces between the stars? The same energy that causes a seed to become a tree, that transforms an innocent child into an innocent old man, that prevents the sun from rising or setting but rather rotates the earth at a very specific angle, that holds our miracles in a safe place until we are ready to receive, that suspends time and space for us to recognize our true being.
"The human spirit knows no boundaries of any reality, whether chosen or imposed. It is simply a personal choice, for there are no proofs, otherwise. What was chosen yesterday influenced today and what we choose today will influence tomorrow. Regrets and aspirations are opposing faces of their 'focal counterpart'. Our treasure is an eternal moment in a very powerful 'now' and that is all we can be certain of," Kublawi says.
The EBook "Aspects of the Other Self" with the CD albums "Soul Mates" and "Blessed Child" are packaged together with breath-taking photography and inspirational videos. For more information or to purchase the EBook/CDs/Videos please visit http://www.MasterMyOwnMind.com.
# # #