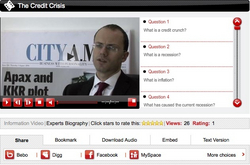 (PRWeb UK) September 20, 2009
With UK online advertising now worth approximately £3.3 billion, a new website http://www.bizzibox.com launches today that offers businesses of all sizes a place to communicate directly with their online audience with advanced video streaming technology. Bizzibox is the interactive business directory with video streaming technology at its centre – enabling businesses to easily manage their online brand image and reach out to more customers.
UK Businesses list for free on http://www.bizzibox.com and receive a free, interactive profile page from which they can upload news and images. Listings are linked to expert information videos on products and services allowing consumers to find information and businesses quickly and easily.
One feature that business can access directly from their Bizzibox profile page is the My Bizzibox Player. 'The My Bizzibox Player makes branded video streaming technology available to businesses of all sizes,' comments Bizzibox CEO, Tom Acton. 'It allows businesses to create video blogs, upload business videos and publish video news stories that play instantly on a business' own website. From £19.50 per month, it's the UK's only affordable commercial-use video publishing solution and an ideal tool for businesses that want to add professional branded video to their websites.'
In addition to the My Bizzibox Player, the site also offers a professional Filming & web distribution service: 'Video is a powerful way for business to communicate with their customers and increase their online traffic,' continues Acton.
'The consumer market for online video has grown rapidly over the past couple of years with approximately 29.6 million people in the UK accessing online video in a single month in 2009. To reach this ever growing market, businesses of all sizes need to stay one step ahead and communicate via online video. Bizzibox provides the ideal platform to do this.'
For more information on Bizzibox or to list your business for free, visit http://www.bizzibox.com or contact Tom Acton at tom (at) bizzibox (dot) com or 0845 1701345
Stats taken from Internet Advertising Bureau.
To view a sample business profile on Bizzibox visit http://www.bizzibox.com/business/howtolookgood
If you are a journalist that wants access to a sample Bizzibox business profile page and My Bizzibox Player for testing purposes, please contact Tom Acton at tom (at) bizzibox (dot) com or on 0845 1701245.
About Bizzibox:
Bizzibox Ltd is the interactive business directory that provides businesses with affordable digital marketing tools.
Consumers can search and watch hundreds of information videos on products & services, with advice from the UK's most trusted industry experts, & seamlessly find local businesses relevant to that search.
Businesses can list in our local directory for free and access cutting-edge digital marketing tools – helping communicate their message more effectively.
About My Bizzibox Player:
My Bizzibox Player is the most affordable professional video publishing solution in the UK. Streaming packages start from £19.50 per month and purchasing the Player automatically puts businesses ahead in the Bizzibox Directory.
###