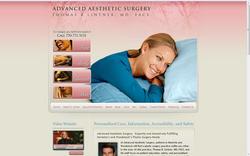 I generally recommend silicone for several reasons. First is safety.
Marietta, GA (Vocus) February 10, 2009
In 2006, after an exhaustive and thorough patient study on the safety of silicone gel implants for breast augmentation surgery, the FDA issued its stamp of approval for cosmetic plastic surgeons to use them in breast reconstruction procedures for women of any age, and breast augmentation procedures for women over the age of 22.
"I generally recommend silicone for several reasons. First is safety." Dr. Tom Lintner is an Atlanta, Georgia-area cosmetic plastic surgeon who has always preferred silicone implants for his patients. The ratio between silicone breast implant procedures and saline implant procedures Dr. Lintner performs at his practice is at least 10 to 1. He says that with proper follow-up, the safety of silicone implants is equal to saline, if not safer. "The reason that the FDA allowed silicone implants for primary augmentation in 2006 was that after 14 years of intensive study, they could not find any proof of any kind that silicone was harmful. There have been 3 generations of breast implants…the 1st generation Dow Corning implants were 'thin shelled and thin gelled' and were just not made as well as they are now. The same can be said about the 2nd generation. Now, with a much thicker shell and a lot more knowledge about placement and follow-up, we are much better able to manage things."
At Advanced Aesthetic Surgery, Dr. Lintner's Atlanta, Georgia-area breast augmentation practice, each patient is treated with a very personalized approach, encouraging them to honestly communicate their fears and anxieties so that Dr. Lintner can address them point-by-point, and go over all aspects, both positive and negative, of procedures. He says he not only spends time with patients explaining the differences between saline and silicone implants, he also lets them hold each type of implant and compare the two, allowing them to judge the differences themselves.
Dr. Thomas Lintner says he generally prefers silicone over saline implants because they look and feel lighter and more natural, and the risk of visible implant-wrinkling or rippling is less. Plus, Dr. Lintner says today's state-of-the-art silicone breast implants are much more durable than those of the past. "My nurses stand on the implants in the office, to show patients how resilient these implants are. I would have no problem putting silicone implants in my wife, or any family member… (brothers excluded)."
Dr. Lintner emphasizes that the choice is ultimately up to the patient, and he wants to ensure his Atlanta, Georgia-area breast enlargement patients to be extensively informed on both silicone and saline implants. He says he understands that patients may have formed a wary opinion on silicone breast implants because of problems associated with the older types; but, he says, once he has had the opportunity to talk with patients about concerns they may have about silicone breast implants, they generally feel better.
After two years of official FDA-approval, Dr. Tom Lintner believes it's nothing but good news for women who would like to add more volume and contour to the bustline. "I am just excited for the patients… I am so glad women have options again."
Patients considering breast augmentation or reconstruction can contact Dr. Tom Lintner's Atlanta, Georgia-area breast implants practice for more information. Advanced Aesthetic Surgery serves two locations for patients: 711 Canton Road, Suite 400, Marietta, Georgia 30060; and 120 N. Medical Parkway, Suite 200, Woodstock, Georgia 30189. Dr. Lintner's offices can be reached at (770) 771-5151.
###