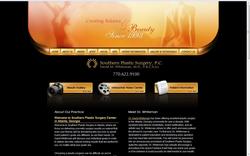 There is nothing more disheartening for a plastic surgery patient than being unhappy with their results – especially after having to undergo the surgical procedure and putting in the necessary recovery time
Duluth, GA (Vocus) August 11, 2009
Women today are often choosing to undergo a breast revision surgery, also called a "re-do" or in some practices a reconstruction, if they are dissatisfied with the results of a prior surgical breast procedure. Outside of removing or "undoing" an entire breast augmentation, many are unaware of the option to have their breast procedure revised to restore or achieve desired results. Whether a patient has been affected by dramatic fluctuations in weight or has been unhappy with their results from the beginning, breast revision surgery can be the solution. For patients who have had breast implants in Atlanta or elsewhere, Dr. David Whiteman offers breast revision surgery to those who are dissatisfied with the outcome.
Dr. Whiteman is the founder of Southern Plastic Surgery, a practice devoted to aesthetic enhancement and cosmetic plastic surgery in Atlanta. "There is nothing more disheartening for a plastic surgery patient than being unhappy with their results – especially after having to undergo the surgical procedure and putting in the necessary recovery time," said Dr. David Whiteman, founder of Southern Plastic Surgery in Duluth. "At Southern Plastic Surgery, we call our corrective breast procedures breast revisions because we work together with each patient to create a new vision to further enhance the breasts or to correct any problems seen with the patient's current augmentation, reduction, or lift received at other practices."
The effects of pregnancy or drastic weight gain/weight loss are among the most common contributors to dissatisfaction with prior procedures. A breast lift at our Atlanta practice or a new implant may be needed for women to restore their look after the effects of their body change. Breast revision surgery can also be a solution for women who wish to decrease or increase the size of their implants, change the shape of their breasts, or switch implants from saline to silicone and vice versa. Others seek a revisionary procedure after their battle with breast cancer or other complications. Because every breast revision surgery is different, a comprehensive treatment plan needs to be tailored to each individual patient.
Southern Plastic Surgery – Dr. David Whiteman
Southern Plastic Surgery was founded in 1993 by David M. Whiteman, M.D., F.R.C.S.. Dr. Whiteman serves as the Chief of Plastic Surgery for Gwinnett Medical Center and is certified by the American Board of Plastic Surgery and the Royal College of Physicians and Surgeons of Canada. With a special interest in assisting women suffering from breast cancer, Dr. Whiteman created a "buddy system" for his breast reconstruction patients to discuss their journeys to recovery and also serves on the board of directors for The Sport of Giving, a breast cancer care and prevention non-profit organization.
Southern Plastic Surgery is an Atlanta-area practice specializing in cosmetic and plastic surgical procedures of the breast, body, and face. Patients considering procedures such as breast reduction in Atlanta and other aesthetic and body contouring options can find more information about Southern Plastic Surgery and Dr. Whiteman from their website at http://www.southernplasticsurgery.com .
###