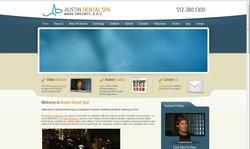 I have always tried to make each patient's dental experience a comfortable and comforting one.
Austin, TX (Vocus) August 24, 2009
Mark Sweeney, DDS knows cosmetic dentistry… and he knows Austin. A founding member of the Texas Academy of Cosmetic Dentistry, Dr. Sweeney is director of Austin Dental Spa, a practice devoted to turning visits to the dentist – what many think of as an anxiety-ridden, unpleasant venture – into a refreshing, indulgent, relaxing experience. It's been one of the hallmarks of a dentist who is marking 2009 as an important milestone: Dr. Sweeney's 30th year in practice. "I have always tried to make each patient's dental experience a comfortable and comforting one."
Dr. Sweeney has been practicing cosmetic dentistry in Austin since 1979. A graduate of the University of Texas at Austin, he is a sustaining member of the American Academy of Cosmetic Dentistry, the American Dental Association, the Academy of General Dentistry, the American Endodontic Society, and numerous other prestigious medical organizations. Trained and qualified in a variety of dental fields, Dr. Sweeney has made cosmetic dentistry the focus of his practice. "We are a general dental office that's skilled in all the different phases of general dentistry, but we love cosmetic dentistry. We love to change people's smiles."
In fact, just the experience of visiting Dr. Sweeney's Austin Dental Spa can put a smile on a patient's face. The practice is designed with the anxious patient in mind, and has been built to provide patients with an environment that can help them relax before and during procedures. Scented candles, Italian leather chairs, soft blankets, music, and arm, hand, and foot massages can help patients who are undergoing procedures such as porcelain dental veneers in Austin ease their anxieties while being pampered by Dr. Sweeney's professional staff. The practice also offers patients the latest in diagnostic and dental treatment technology, plus oral conscious sedation dentistry which puts patients in such a relaxed state during treatment they often feel no pain at all. It's a practice that's designed not only to put patients at ease, but to give them the best possible results. "Every time we touch a tooth we want to improve functionality and aesthetics. Changes and advancement in technology have fueled the evolution of cosmetic dentistry and the ability to achieve natural results."
During Dr. Mark Sweeney's 30 years in practice, he has taken several hundred hours of continuing education courses to keep abreast of the latest dentistry techniques, with the goal of constantly providing patients with advanced treatment options that not only make their teeth and gums healthier, but also brighter and more aesthetically pleasing. Dr. Sweeney was the 16th dentist in the country to use the Schick digital x-ray system, a more environmentally friendly and safer way of taking x-rays of the mouth. He also utilizes 'smile preview' digital imaging technology to give patients a general idea of what their teeth can possibly look like after cosmetic dentistry procedures.
After 30 years of practicing cosmetic dentistry for Austin patients, not to mention two gold and six silver medals awarded for Smile Design by the American Academy of Cosmetic Dentistry, Dr. Sweeney says it's the patients who make all the difference.
"No one's ever hugged me over a root canal, but you change somebody's smile and make them look 10 years younger and they bring cookies and flowers and send us thank you notes."
And that makes Dr. Sweeney smile, too.
For more information on teeth whitening in Austin and other cosmetic procedures available at Austin Dental Spa, the practice can be reached at 3305 Northland, Suite 515, Austin, Texas 78731 – (512) 380-1300. http://www.austindentalspa.com.
###