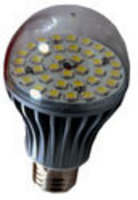 Kemp, TX (Vocus) September 18, 2009
Larson Electronics announced the addition of a Buy American Compliant LED bulb that fits into a conventional light bulb socket. With an aluminum housing and polycarbonate cover, the LED7W-E26 bulb offers solid state design, 50,000 hours of life and significant vibration tolerance. At 7 watts, the LED bulb outperforms a 100 watt incandescent in terms of foot candles or lux of illumination while using less than 10 percent of the electric current drawn by the 100 watt incandescent bulb. Finally, this LED bulb runs at cooler temperature than a conventional 100 watt incandescent and delivers a bright, white color temperature of 6000 Kelvin (lower Kelvin colors also available). The LED7W-E26 is available in high voltages including 120, 220, 208, 230, 277 and even 480 volts. The LED bulb is also available in low voltage including 12 and 24 volts.
"We designed and built this bulb for our LED explosion proof lights," said Rob Bresnahan with Larson Electronics Magnalight. "We really weren't concerned with the energy savings. Instead we wanted to produce a whiter, brighter incandescent alternative that could be used in our explosion proof drop lights and other hazardous location lighting. This LED bulb does just that. The LED7W-E26 is available to retrofit existing explosion proof hand lamps and string lights. You simply remove the existing incandescent rough service bulbs and replace it with the Magnalight LED bulb. We now offer the EHL-7W-LED Class 1 Division 1 (and Class 2 Division 1) trouble light with this 7 watt LED bulb. We have a string light configuration (EPLSL-7WX10) that uses these bulbs as well. Even rough service incandescent bulbs break when dropped. Plus, they have a very short life. As such, operators are continuously disassembling and re-assembling these explosion proof lights to change the light bulb. Not only is this time consuming and difficult, especially in poorly lit, dirty work areas, but there is also some risk that the light won't be properly re-sealed to maintain its rating. Using LED bulbs eliminates that need, at least for a few years. Finally, the color on these LEDs is significantly whiter, which improves an operator's ability to discern colors, defects and other issues."
Rob concluded, "The LED7W-E26 bulb could easily be used in a home or office building, where standard incandescent bulbs are used. Of course, users would see more than a 90% savings in electric usage. However, given that this E26 base LED bulb carries a price of $70, we believe the real opportunity is going to be in the industrial and military sectors, where durability, low maintenance and brightness are going to translate into savings beyond electric consumption. On the low voltage side, operators are using generators and batteries to power their lights, will get 10 times the battery life or run time. So this will be a compelling value proposition as well."
Larson Electronics Magnalight offers a wide range of LED lighting, including explosion proof LED lights, low voltage LED vehicle and equipment lights and LED beacons and strobe hazard lights. You can learn more at http://www.magnalight.com or 1-800-369-6671.
# # #