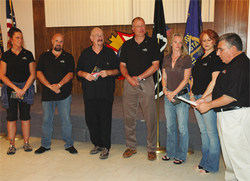 The outreach and compassion has been amazing
Noank, CT (Vocus) August 25, 2009
In 2008 when founder and businessmen John Niekrash recognized the need to reach out to returning veterans, he had no idea the magnitude that this philanthropic endeavor would bring in such a short time. In less than 2 short years Work Vessels for Veterans (WVFV) has served a rapidly growing number of US Veterans with donations of startup tools and supplies to assist them with a positive and productive realignment back into their civilian life.
On July 7, 2009, Work Vessels for Veterans and its members were honored with the Freedom Team Salute Commendation Award, presented by Ralph Moranz, Freedom Team Salute Ambassador. Founder, John Niekrash, along with board members Ted Knapp of Green Technology Recycling and Rock and Roll Hall of Famer, Dave Mason were among the members who received the commendation award.
Knapp has established LAPTOPS FOR VETS along with Kimberly Crew-Erle of Computer Systems and Solutions of Philadelphia, Pa., whose firm specializes in purchasing and refurbishing the devices. Knapp continually collects, refurbishes and distributes laptop computers, which he accordingly refers to as "vessels for learning".
Ted Knapp and Kimberly Crew-Erle also took the opportunity during the awards ceremony to present a laptop to Joseph Temples of Bradley Beach, NJ to assist him in his pursuit for higher education.
WVFV has continually grown with individual and corporate support to enable veterans with the means to support themselves and their families through donations of work vehicles, fishing boats, tools and laptops.
"The response from individual and corporate sponsors has generated an enormous growth of awareness and motivation", remarks founder John Niekrash. "As more people take notice to the incredible impact WVFV has made on the lives of our returning vets, more people are becoming inspired to take part in this rewarding journey of hope and triumph."
John Niekrash recently donated a pickup truck to Adam Burke, a 90% disabled purple heart recipient, to assist him in developing "Project Blueberry Farm", a venture developed by Burke to employ other disabled vets as a means to provide for themselves and their families. Seeing this as a perfect opportunity to "give back", Paul Jacey of Stanley Works, of New Britain, CT, spearheaded the effort to fill the pick up truck with Stanley tools and supplies needed to run the farm.
"The outreach and compassion has been amazing", says Niekrash, "to see the growth of progress bloom from each and every single act of kindness is the true concept of paying it forward".
Most recently WVFV and Grossmans Seafood of Noank, CT served dinner to 500 soldiers and their families to show how much they appreciate the sacrifices our military make every day. "These demonstrations of gratitude have not only brought joy to our veterans and their families, but continue to create the growth of awareness that our veterans so rightfully deserve".
Work Vessels for Veterans is a 501 (c)(3) charitable organization, in which all contributions and donations are fully deductible under section 170 of the code.
For more information on applying for assistance or donations, please see http://www.workvesselsforvets.org, or call 203.887-5642 or 860-536-9651.
###