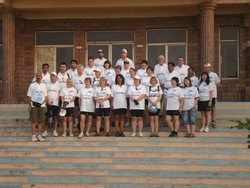 Now in its 17th year, HEAL - a UK registered charity - is committed to providing shelter, support, education and healthcare for needy children.
(PRWEB) December 20, 2009
Wakefield, West Yorkshire based Matthew Glover will be taking things a little easier with the festivities this Christmas. For the last thing he wants is to add inches to his waistline as he departs on New Year's Day for a 190 mile bike ride across India to help raise £100,000 for Heal, a charity that supports the country's orphaned and underprivileged children. And forty other riders from the UK, USA and India will also be abstinent as they make final preparations for the now annual trek across a region of South India to provide funding to support 1000 local children.
Matthew, the UK organiser of Cycle India is passionate about the event. He explained the purpose of the ride and the goals of Heal: "At present there are 22 people from the UK, and 11 people from the USA taking part. With those joining Heal from India there should be around 40 people cycling for this worthwhile cause," he explained. "The charity supports orphaned and underprivileged children in the Indian State of Andhra Pradesh, providing education and healthcare for more than 1,000 kids. But our goal is to take care of 10,000 children by 2015. It's ambitious but we'll get there!"
Heal was started in 1992 by Dr Koneru Prasad, a doctor from Peterborough, UK who donated his family home in Guntur, India to the fledgling charity. All funds raised will go towards building a new residential school for children from deprived backgrounds in Vijayawada, the birthplace of Dr Prasad. The school will be Heal's most ambitious project to date, with the intention of creating a happy and safe learning environment for over 1000 children. Heal currently supports projects in Guntur, Vijayawada and Bhadrachalam but is looking to develop many more projects.
Now in its 17th year, HEAL - a UK registered charity - is committed to providing shelter, support, education and healthcare for needy children. As a small charity they are committed to ensuring that donations are not wasted on administrative costs, such as advertising and salaries. They achieve this because they have no administrative office and no paid administrative staff.
"All the cyclists taking part are currently working hard, both training for the event and fundraising for the charity," added Matthew. "The reward for all this effort is cycling through the beautiful scenery of the Coorg, and afterwards visiting the Heal Children's Village in Guntur to meet the kids, which is really the highlight of the trip and the thing that makes it all worthwhile.
"We have enjoyed excellent support but there is no limit: the more money that is given means more kids are helped – it all goes to the children because Heal is run by volunteers."
Matthew is a director of a conservatories manufacturer, Conservatory Outlet, and a volunteer for the charity Heal.
More information, including the opportunity to make donations, is available on the Heal website at http://www.heal.co.uk.
# # #