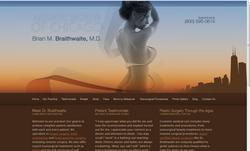 Chicago, IL (Vocus) September 15, 2009
After serving as a flight surgeon in the U.S. Navy and as Chief Plastic Surgeon at Bethesda Naval Medical Center outside Washington, DC, a native Chicagoan has come home. Dr. Brian Braithwaite is now back in the metro area where he was born, raised, and educated – and he has opened a new practice offering plastic surgery in Chicago that provides patients with a comprehensive range of services.
Dr. Braithwaite has spent the majority of his life in the Windy City, and has been educated at some of the region's top medical institutions. His time away from Chicago has been spent serving the country and gaining extensive experience in plastic surgery procedures. After earning his undergraduate degree at the University of Chicago and his medical degree at the University of Illinois College of Medicine, Dr. Braithwaite was commissioned in the U.S. Navy and became a flight surgeon. Following a tour with the U.S. Marine Corps, Dr. Braithwaite resumed training as a general surgical resident at Keesler Medical Center, Keesler Air Force Base, and later completed training as a plastic surgeon at the University of Louisville. He served as a staff plastic surgeon at Bethesda Naval Medical Center outside Washington, DC, later earning the rank of Commander and ultimately the Chief of Plastic Surgery at Bethesda. During his time at Bethesda, Dr. Braithwaite treated a large number of military service members who had been injured in Iraq and Afghanistan. The hospital was also home to the Breast Care Center, where Dr. Braithwaite provided breast reconstruction for the majority of patients who had undergone a mastectomy.
Dr. Braithwaite is board-certified by the American Board of Plastic Surgery and a Fellow of the American College of Surgeons. Upon his return to the city, Dr. Braithwaite opened the Aesthetic Institute of Chicago, located downtown adjacent to the Bloomingdale's building. The state-of-the-art practice offers comprehensive surgical and non-surgical aesthetic enhancement procedures for both women and men. Along with Dr. Braithwaite's new practice, patients considering options such as liposuction, facelift, breast reconstruction, and breast augmentation in Chicago can visit the doctor's new website for a user-friendly experience that delivers important information about himself and procedures he offers while utilizing the latest web tools.
Dr. Braithwaite's new website is designed not only to introduce his practice to the community, but also to offer visitors an easy and informative way to receive a virtual tour of the Aesthetic Institute of Chicago. In addition to a biography of Dr. Braithwaite, the website includes a variety of pages offering detailed descriptions of procedures so that visitors looking for information on aesthetic enhancement options like tummy tuck surgery in Chicago can get a general idea of what they can expect.
After years of service in the U.S. Navy and as a plastic surgeon at "the President's Hospital" outside Washington, Dr. Brian Braithwaite has returned to his native Chicago to offer the community new and effective ways of enhancing their appearance and feeling better about themselves.
And being able to do that in the place he calls home makes Dr. Braithwaite feel great too.
For more information on Dr. Brian Braithwaite and procedures such as rhinoplasty and liposuction in Chicago, his practice can be reached at 60 East Delaware Place, Suite 1400, Chicago, IL 60611 – (800) 595-0615. http://www.drbraithwaite.com.
# # #