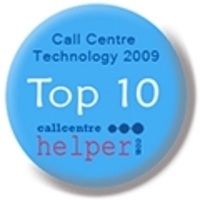 Jonty Pierce, Editor, Call Centre Helper says "Corizon were selected for the award as a result of votes from our readers. Over 300 people from 146 companies voted for their favourite call centre technology. Comments from voters highlighted Corizon's f
(PRWeb UK) December 6, 2009
Corizon, the enterprise mashup company has successfully achieved the number 9 spot in the Call Centre Helper Technology 2009 Top 10. Visitors to the Call Centre Helper website have been voting for their most valuable technology for the past 4 weeks; over 34 different technologies were represented and hundreds of votes cast. The Top 10 Technologies were announced on the website on 2nd December 2009 see http://www.callcentrehelper.com/the-top-10-call-centre-technology-for-2009-6673.htm..
Corizon's Enterprise Mashup Platform is the only solution represented in the top 10 that is a platform for integration for existing installed call centre applications – of which we all know are many, through evolution or recent Mergers. This is a huge endorsement of the value that Enterprise Mashup Technology delivers in optimising existing technologies in the Call Centre. The number one application voted by Call Centre Helper visitors was RightNow CX – the customer experience suite, other successful contenders included Verint, CallScriptor and Avaya – all well recognised Call Centre Applications.
Corizon's Enterprise Mashup Platform integrates applications for people. It simplifies, automates and streamlines the desktop delivering seamless fit for purpose applications that provide the right information at the right time resulting in improved productivity. Within the Call Centre the Corizon Enterprise Mashup Platform is frequently used to optimise customer service processes. A real need is found where contact centre agents need to access multiple applications, often alt-tabbing, cutting and pasting customer information between siloed applications to effectively respond to customer enquiries. A recent Corizon survey* identified that on average Call Centre agents have to access between 3 and 5 applications in each call and in the worst case scenario up to 18 applications in the course of a customer enquiry which adds time, complexity and potentially mistakes into the equation. The Corizon platform is proven to streamline and integrate multiple applications from whatever platform they exist into a seamless, fit for purpose application, one step at a time.
Eric Guilloteau, CEO, Corizon "Corizon is thrilled to be recognised as a leading technology player in the Call Centre Market amongst all these excellent companies. It is proof of the value that the Corizon Enterprise Mashup Platform delivers in integrating and streamlining the agent desktop to improve productivity and illustrate clear returns. Our step by step approach allows the business to iteratively integrate applications, one hot spot at a time, delivering immediate value where it is needed most."
# # #