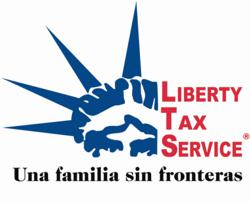 (PRWEB) October 28, 2009
Virginia Beach, Va. (Vocus) October 28, 2009 -- Liberty Tax Service, the fastest-growing retail tax preparation company in the industry, and the only one with a multifaceted Hispanic Initiative, Una Familia Sin Fronteras (A family without boundaries), is being sought out by universities and professional organizations as a company with expertise in embracing diversity in the workplace, as well as in its cultural training programs used to ensure that Hispanic clientele are provided the tax preparation and educational services they need in the language in which they prefer to communicate.
A series of recent opportunities represent successful extensions of Liberty's Hispanic Initiative, and highlight Liberty's commitment to provide excellent service and multiple educational and professional opportunities to clients of all sorts of socioeconomic and cultural backgrounds. Following are a couple of examples of Liberty's engagement with sharing their expertise in Hispanic affairs.
In celebration of Hispanic Heritage Month, Regent University will be promoting Liberty Tax Service's "Hispanic Culture" and "Experts Speaking Expertly" Hispanic Webcast Modules in a series of three training seminars for their faculty. This is part of a series currently used internally by Liberty Tax management to train their Administrative, Marketing, and Recruiting Staff.
Regent University asked Ms. Martee Pierson, Director of Diversity Marketing at Liberty Tax Service, to do a "kick-off" overview at each of the training seminars, to get participants excited about the importance and value of understanding diversity in the marketplace and workplace. Following the training seminars, Liberty Tax Service will provide Certificates of Completion, co-branded with Regent University, which the University will present at an "official" gathering, making the program a more impressive and worthwhile event for the participants.
Additionally, the Office of International and Intercultural Programs at Virginia Wesleyan College also invited Ms. Pierson to do a presentation about being Hispanic and Female in the workplace. Ms. Pierson's 1 1/2-hour presentation, "The Adventures of A Latina Woman in Corporate America," included a challenge to search out careers at organizations that embrace diversity in the workplace, to a very interested and enthusiastic audience on September 8th.
"These opportunities are possible due to the advancement of Liberty Tax Service's unique and multifaceted Hispanic initiative," explains John Hewitt, founder and CEO of Liberty Tax Service. "Our focus is on superior educational services both internally to staff and franchisees about the Hispanic culture, and to the Hispanic community nationwide relative to financial and fiscal responsibility issues, as well as community service. We take great pride in providing this free education and in offering our Latino neighbors the financial information they need to help them comply with the fiscal requirements of their new homeland."
For more information on Liberty's Hispanic Initiative - Una Familia Sin Fronteras -- please contact Martee Pierson, Director of Diversity Marketing for Liberty Tax Service at martee.pierson(at)libtax(dot)com.
About Liberty Tax Service:
Liberty Tax Service is the fastest growing retail tax preparation company in the industry's history. Founded in 1997 by CEO John T. Hewitt, a pioneer in the tax industry, Liberty Tax Service has prepared over 7,000,000 individual income tax returns and currently operates over 3,200 offices throughout the United States and Canada, with another 500 offices planned for 2010.
Liberty Tax Service provides computerized income tax preparation, electronic filing, and refund loans. With an emphasis on customer service including audit assistance, a money back guarantee, free ITIN's for all immigrants and free reviews of prior year tax returns, Liberty Tax Service is well known for its strong commitment to its client base. Liberty Tax Service also provides a Hispanic Services Seal of Excellence Certification program that ensures that its offices provide bilingual assistance and are knowledgeable about how to properly serve the Hispanic community.
With 41 years of tax industry experience, Hewitt stands as the most experienced CEO in the tax preparation business, having also founded Jackson Hewitt Tax Service (NYSE: JTX).
###