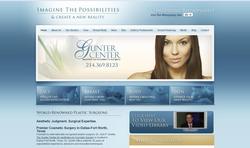 Dallas, TX (Vocus) August 17, 2009
It's a question that's probably on the minds of every person who ever thinks about undergoing surgery for aesthetic enhancement: how would I like to look after the surgery? The answer may be a little easier to get these days with the advent of 3-D computer technology, and a prominent plastic surgeon in Dallas is taking full advantage of it. Dr. Jack P. Gunter is head of the Gunter Center and one of the most respected physicians in his field. Using an innovative VECTRA® 3-Dimensional camera and Sculptor™ software, developed by Canfield Imaging Systems (Fairfield, NJ) the surgeons at the Gunter Center can provide plastic surgery patients with life-like simulations of their bodies and faces in images that reflect the ideal goals of a cosmetic enhancement procedure.
With 3-D imaging, patients considering procedures such as rhinoplasty and breast augmentation in Dallas are photographed from a variety of angles with a special camera. The digital images are then manipulated with the Sculptor™ software to show the goals of the procedure as accurately as possible. For instance, for patients who are looking to increase the size of their breasts with breast augmentation, Dr Michael Bogdan, who specializes in body contouring and facial rejuvenation procedures, can use the 3-D imaging system to help them get an idea of how particular sizes of implants may look once they are placed. This technology allows patients to see just how their body might look after breast enlargement, and the image can be changed to reflect a larger or smaller-size implant should the patient want to compare and contrast their proportions.
Since nose reshaping surgery can often give the entire face a significantly enhanced appearance, the 3-D VECTRA® technology comes in very handy for patients who wish to undergo rhinoplasty in Dallas. Dr. Gunter and Dr. Spencer Cochran are two of the most skilled rhinoplasty surgeons in this field, and 3-D imaging is one more way for them to make rhinoplasty patients feel at ease and more comfortable by having a much clearer idea of what the goals for the surgery should be. If the patient is not certain of their goals, their photo can be morphed until the goals that the patient had in mind are seen and the differences can be discussed. Dr. Cochran says his patients love the technology. "Because the images are in 3-D, I can rotate their images to any viewpoint, and they can really examine the desired outcome. We can make simulated changes and set surgical goals in advance, and this truly helps them make a decision as to their cosmetic procedure."
The imaging system is able to simulate the projected outcomes of a number of plastic surgery procedures, not only helping patients acquire an image of what the ultimate results may be, but also giving them piece of mind about having the procedure in the first place.
About the Gunter Center
Dr. Jack P. Gunter, the founder, is a world renowned rhinoplasty surgeon who has co-authored a two volume comprehensive textbook on rhinoplasty, DALLAS RHINOPLASTY: Surgery by the Masters. This authoritative rhinoplasty textbook stemmed from the Annual Dallas Rhinoplasty Symposium which he founded and is still in existence today and attended by surgeons from around the world. He has written numerous journal articles and publications illustrating pioneering techniques in the field of nasal surgery. His expertise is sought after by plastic surgeons from across the globe. Dr. Gunter is double-board certified by the American Board of Plastic Surgery and the American Board of Otolaryngology. In addition to state-of-the-art rhinoplasty procedures, Dr. Jack P. Gunter and the Gunter Center for Aesthetics & Cosmetic Surgery offer a comprehensive range of cosmetic plastic surgery options. His rhinoplasty and plastic surgery team include Dr. C. Spencer Cochran, a rhinoplasty specialist, who is board-certified in Otolaryngology. Dr. Cochran has devoted his entire career to the field of nasal surgery; and Dr. Michael A. Bogdan, a board-certified plastic surgeon who heads the Gunter Center's body contouring, facial enhancement, and breast augmentation division. Dr. Gunter says his office staff, including the Director of Skin Care and an Injection Specialist, are vitally important to the practice as a whole, and with the latest technology and an experienced, skilled plastic surgery team, patients can feel more at ease. "My entire staff – front and back office – is tenured, friendly and responsive. That makes patients comfortable. Patients know they have been treated professionally by people who know what they are doing. I don't think I could have assembled a better group of people than we now have."
For more information on 3-D imaging technology, Jack Gunter, MD, and the Gunter Center for Aesthetics & Cosmetic Surgery, our office can be reached at 8144 Walnut Hill Lane, Suite 170, Dallas, Texas 75231 – (214) 369-8123, or via our website at http://www.gunter-center.com
DISCLAIMER:
The VECTRA® 3-Dimensional camera and Sculptor™ software are virtual cosmetic tools that are intended to assist prospective cosmetic surgery patients in visualizing potential cosmetic surgery outcomes. However, the virtual images created are for illustrative purposes only and do not represent or guarantee an actual cosmetic surgery outcome. Prospective cosmetic surgery patients should consult a qualified plastic surgeon for an evaluation of potential cosmetic surgery outcomes.
###