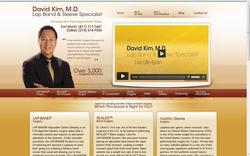 We don't just perform one type of surgery, we perform all the different types of weight loss surgeries, so we're going to listen to the individual and try to find a solution that is appropriate for him or her
Dallas, TX (Vocus) October 13, 2009
A local weight loss surgeon with offices in Colleyville and Dallas announces the launch of a new website with the goal of educating individuals who are morbidly obese on the advanced surgical weight loss treatments that are available to them. According to the scientists from the National Center for Health Statistics, millions of American adults are considered to be morbidly obese, meaning that they are at least 80-100 pounds over their ideal body weight. For many of these individuals, diet and exercise alone are not enough to achieve and maintain weight loss; however, Dr. David D. Kim says weight loss surgery can provide a safe and effective long-term solution.
Dr. Kim's new website has detailed information for individuals who are interested in weight loss surgery in Dallas, including costs and financing, frequently asked questions, and life after surgery. Dr. Kim says, "We don't just perform one type of surgery, we perform all the different types of weight loss surgeries, so we're going to listen to the individual and try to find a solution that is appropriate for him or her," .
Those considering the Lap-Band System in Dallas will find a step-by-step description of the procedure, in addition to pages that discuss the REALIZE® Adjustable Gastric Band and gastric sleeve (vertical sleeve gastrectomy) surgery. Visitors to Dr. Kim's website can also watch videos about the procedures and find out if they are a candidate for surgical weight loss treatment offered at his Dallas weight loss surgery practice. The videos include 3-D animations that illustrate each procedure and give patients a clearer understanding of surgical weight loss treatment. LAP-BAND® Adjustable Gastric Banding, the REALIZE® Adjustable Gastric Band procedure, and gastric sleeve surgery are all performed to limit the amount of food that patients ingest so that they have an earlier feeling of fullness, with the goal of losing significant amounts of weight.
Other features of the website include a before-and-after photo gallery, a blog with practice updates and bariatric surgery news, and a calendar with the upcoming dates of Dr. Kim's free seminars for those who are considering weight loss surgery. Visitors can also view web video documentaries where patients share their experiences and describe how weight loss surgery has changed their lives.
Each page of the website is designed to give patients a virtual look into Dr. Kim's practice and to provide them with a valuable source of information on a variety of weight loss surgery topics, as well as give them an idea of the comprehensive programs geared toward helping patients through every step of the weight loss process. The website features an uncluttered design and easy-to-use navigation so that patients can find the information they are looking for quickly and efficiently.
Dr. Kim hopes the new website will give visitors a full view of his weight loss surgery programs and his practice, as well as the knowledge that there are effective treatments available that can help people fight morbid obesity and turn their lives around.
About Dr .David Kim
Dr. David Kim performs gastric sleeve surgery, LAP-BAND® Adjustable Gastric Banding, and REALIZE® Band surgery in Dallas at his award-winning practice, the Live Life Again Center for Bariatric Surgery. The American Society of Bariatric Surgery has honored Dr. Kim's practice as a "Center of Excellence," a designation given to only one out of every 303 bariatric surgery centers.
Dr. Kim's mission is to "provide the finest surgical care available with dignity and compassion" so that patients can improve their health and the quality of their lives. He has performed more than 3000 weight loss surgeries in his career and was selected as North Hills Hospital's 2006 Physician of the Year. He has also been honored by his peers as Fort Worth Magazine's "Top Doc" and in a nationwide survey as a Castle Connelly "Top Doc" in bariatric surgery.
Patients can reach Dr. Kim by filling out the contact form on http://www.mylapbanddallas.com or by contacting his practice at (214) 614-7036 or (817) 717-7447.
###