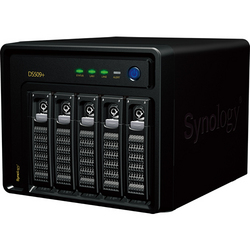 Redmond, WA (Vocus) October 21, 2009
(Synology America Corp.) - Synology, a global provider of network attached storage devices, takes first and third place in PC World's Top 10 Network Attached Storage Devices with the Synology DiskStation DS509+ received first place with an 88 overall score and 100 out of 100 for performance. The DS209+ is third in the top ten list with an 84 score, indicating a very good rating.
To rank Network Attached Storage, PC World lists two major forms of testing for their product reviews: a hands-on test by the editors and writers in the category and a formal test in their PC World testing center. According to PC World's testing methods the scores that Synology DiskStations received indicate that the DS509+ and the DS209+ are substantially better than most other types of NAS and are highly recommended.
The bottom line of the top 10 roundup - Synology DiskStations offer more features and better performance than the competitors in their category. First place winner, the Synology DiskStation DS509+ is an ideal solution for small to medium sized businesses who want a storage and backup solution that can integrate easily into their existing networks, is economical to expand when their needs grow and is easy to setup and maintain.
The Synology DS209+ came in at a close third in the top ten list, boasting tremendous features and performance. DS209+II is a newer and faster revision of DS209+. The DiskStation D209+II, a two-bay network attached storage device offers many features beyond backup. Share, stream and secure your important data, share files between a Mac and PC, setup a home surveillance station and access everything from a web browser when you are on vacation or working remotely. For home or for business, the DiskStation DS209+II is a solid, reliable investment to protect your important data.
All Synology DiskStations include the exclusive Synology Disk Station Manager software (DSM 2.2), which has an intuitive user interface, built on AJAX technology. DSM 2.2 is well designed with easy-to-use wizards for setup and installation, and boasts a number of useful features right "out of the box". DSM 2.2 software offers all the features that a busy home or office shouldn't live without; secure and automated backups, file sharing, remote web access, photo sharing, media streaming, iPhone® applications, surveillance station, FTP download station, web hosting, print server, RAID, ADS support and more.
To view PC World's Top 10 List visit http://www.pcworld.com/reviews/collection/1651/top_10_network_attached_storage_devices.html
Availability
The DiskStation DS509+ and DiskStation DS209+II are available now through online retailers such as amazon.com, newegg.com, buy.com, PCMall, and through resellers and distributors nationwide.
For a complete list of products and additional where to buy information, visit http://www.synology.com
About Synology
Founded in April of 2000, Synology Inc. develops next-generation Network Attached Storage (NAS) products for the home, small and medium sized business markets. Providing a secure way of storing and sharing digital content, Synology products are feature-rich, easy-to-use, energy-efficient and affordable. Headquartered in Taipei, Taiwan, Synology has a global presence with regional offices in the US, (Synology America Corp. Redmond, Washington) and the UK (London, England). Visit http://www.synology.com for more information
Press Contact
Heather Morford
Synology America Corp.
(425) 818-1587 X8031
http://www.synology.com
###