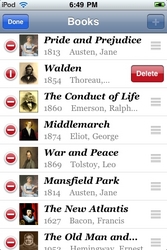 Reston, VA (Vocus) July 9, 2009
About Objects today released a new set of iPhone 3.0 developer examples as free, downloadable Xcode projects. The example projects form a progressive series designed to take developers from the rudiments of iPhone programming through the development of sophisticated iPhone productivity apps.
The examples released today focus on showing developers how to create iPhone apps without using Interface Builder, since many developers have found Interface Builder confusing initially. About Objects plans to release a set of corresponding iPhone 3.0 examples later this summer that show how to accomplish the same things using Interface Builder, allowing developers to compare the projects side-by-side to get a better understanding of the role that Interface Builder plays.
Developers are free to use the examples for their own learning, and can even use the example code in their own projects if they so choose. Among the example projects included in the initial (1.0) release are the following:

First App demonstrates the basic steps to configuring an iPhone app's user interface programatically, without requiring an Interface Builder (.nib) file.
Editable Detail View demonstrates the use of controls such as text fields and buttons, including how to connect controls to the code that implements their behavior.
Animating a View introduces developers to the fundamentals of using Core Animation to animate view transformations.
Simple TableView demonstrates how to configure a table view programatically to present a list of values.
TableView with Navigation builds on the Simple TableView app to show how to use a navigation controller to manage navigating from a list to a detail view by tapping on a table row.
Editable TableView demonstrates how to add, remove, and reorder rows in a list view, and how to edit model object property values in a detail view.
TableView File Persistence shows how to create and populate a list of model objects from a property list (plist) file, and how to persist changes to the list.
About Objects: http://www.aboutobjects.com
iPhone 3.0 Examples: http://www.aboutobjects.com/tutorials.html
Course Schedule: http://www.aboutobjects.com/training/schedule.html
About Objects is a leading source of training and development in Objective-C on the iPhone OS and Mac OS X platforms, and was the first company in the world to offer public developer training on the iPhone SDK. Headquartered in the Accenture building in Reston, VA, About Objects offers public training at multiple locations, including Cupertino, CA, as well as onsite training. The company also provides development and consulting services for the iPhone OS and Mac OS X.
# # #