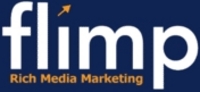 Our Flash SEO tool allows digital marketers to maximize the searchability of their rich media content without IT programming support.
Hopkinton, MA (PRWEB) December 9, 2009
For years marketers have struggled to find a way to allow search engines to crawl their Flash and video content. To solve this problem, Flimp Media has implemented an automated process in its flash landing page marketing platform that allows non-technical users to copy and paste searchable text and terms behind flash web content and videos that converts automatically into search friendly HTML. This text can be crawled by search engines, improving a Flash landing page's chances at being found through organic search.
The function automates a process called SWFObject, which many Web developers use to create searchable text behind Flash elements. Until Flimp implemented this functionality, marketers without Flash programming expertise were unable to create or embed searchable text and terms behind their flash and flash video content.
"Many larger corporations use SWFObject to boost the search ranking for a video," said Flimp CTO Richard DiBona. "With this tool, Flimp now enables all digital marketers to implement the same best-practices, whether or not they have skilled programmers on staff."
Flimp clients can create the searchable text by using an intuitive step-by-step creation wizard. The wizard allows users to copy and paste keyword-rich text into a field, which is then translated into HTML code instantly. This code can then be inserted into a flash landing page, where search engines can crawl it, enabling flexible and highly effective optimization of the rich media web content including video for search marketing.
"We have taken something that was very technical and complex and made it simple to do for any web marketer," according to Wayne Wall, CEO of Flimp Media. "Our intention when developing the flash SEO tool was to allow marketers to be able to create this kind of highly technical code on their own. This takes the burden off of IT, freeing up resources for other tasks. But more importantly, it allows digital marketers to maximize the searchability of their rich media content to enable higher search rankings and more inbound lead generation.We think that's where the real value is."
About Flimp Media, Inc.,
Flimp Media develops on-demand solutions for video marketing, communications and sales that enable non-technical users to quickly create, distribute, track and measure video landing pages, video sales brochures and video email communications without programming or IT resources. Flimp Media also offers clients affordable video production, analytics and landing page design services. For more information or to view a portfolio of examples and case studies, visit http://www.flimp.net.
###