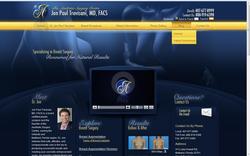 It is softer and feels more like breast tissue. And it has less of a rippling effect than saline implants.
Maitland, FL (Vocus) March 11, 2009
For more than a decade, silicone breast implants were unavailable to most patients undergoing breast augmentation or breast reconstruction procedures. Citing the need to study the implants further, the FDA pulled them from the market, and plastic surgeons performed breast enhancement procedures using implants filled with saline. In 2006, the FDA gave the go-ahead for doctors to use the silicone-filled implants in breast reconstruction procedures for patients of all ages, and in aesthetic breast enlargement surgery for those aged 22 and older.
Dr. Jon Paul Trevisani is the founder and Medical Director of the Aesthetic Surgery Centre, one of the leading facilities offering breast augmentation for Orlando, Florida-area patients. Dr. Jon, as his patients call him, was one of the few plastic surgeons in the United States who were part of the silicone breast implant clinical trials, and has spent much of his career at the forefront of new plastic surgery techniques to improve aesthetic appearance. Dr. Jon says that between saline and silicone implants, silicone is the superior option. "It is softer and feels more like breast tissue. And it has less of a rippling effect than saline implants."
Dr. Jon says he typically advises patients that silicone implants will be of greater benefit to them than saline, and that the controversies of the past are over. "The bad press in the early '90's is still scaring people. I educate them about the current scientific data. All studies show that silicone does not cause any disease process."
Dr. Jon says his Maitland and Orlando, Florida breast implants patients undergo silicone implant procedures by a ratio of 70-30 percent, with many individuals requesting revision breast surgery to replace saline implants with silicone. Ultimately, Dr. Jon says the important thing about the FDA's decision is that patients can now have a wider selection of options for breast enhancement procedures.
"It's all about choice. Finally, women have a choice of implants and don't have to worry about safety. A whole sub-population of patients has been waiting for silicone to come back on the market and this has increased the demand for breast augmentation."
Jon Paul Trevisani, MD FACS is certified by the American Board of Plastic Surgery. The Aesthetic Surgery Centre is fully accredited by the American Association for Accreditation of Ambulatory Surgery Facilities, Inc. (AAAASF), and is equipped with a fully functional, state-of-the-art in-office surgical suite. For more information on Dr. Jon and cosmetic plastic surgery in Orlando, Florida, Maitland, and the surrounding region, the Aesthetic Surgery Centre is located at 413 Lake Howell Road, Maitland, Florida 32751 – (407) 677-8999; (888) 919-6398, or visit http://www.usabreast.com.
###